"Mom! I'm bored!" We've all heard those dreaded words when you're out and about and there's nothing for your kid to do. Truth be told, you're bored too! This day running errands has taken longer than expected and everyone is at their wit's end. It's time to use your secret weapon: phone games!
When you have little kids, it's hard to know if every game you chose to put on your phone is good for all ages. With Caribu, you don't have to worry. Every game on our app is parent-approved and loved by kids. We offer endless fun and (don't tell your kids) our games are all educational!
The best part about playing games on the Caribu app is you can invite your family to play along with you while you video-call. Here are nine of our favorite games to play on the phone that never get old.
1. Memory Game
Do you remember the memory games from your childhood with the square tiles of favorite characters? The game is played by one person flipping over two cards. If they're a match, they get to keep them and go again.
If they're not a match, you turn those cards over in the same place, and it's the next person's turn. Kids of all ages (looking at you, mom!) love this game. Now, you can play it on the Caribu app.
Memory games can help kids with their memory and help improve their focus. The best part about playing memory on the Caribu app is you don't have to worry about the one card that has gone missing.
With the touch of the screen, kids can choose any number of memory card themes from Barbie, Thomas and Friends, powerful women, dinosaurs, or cute animals. Whether they play a solo game or with their grandma two states over, they will have endless fun finding all of the matches.
2. Maze
Kids love mazes. There's something so satisfying about helping the baby dinosaur find its mama or helping Elmo find Zoe. The best part is that on Caribu, it's easy to erase if you need to try again. Pro tip: they say if you start at the back of the maze, it's easier to solve!
For older kids that need a little more of a challenge, there are mazes that incorporate numbers, addition, multiplication, and more elaborate maze paths. There's a fun maze option for any age! Kids can play by themselves, or they can show off their skills to their aunt.
3. Tile Puzzles
Tile puzzles take a picture, cut it into a grid, and move the tiles all around. It's the player's goal to move the tiles into their right place. Once all the pieces are locked in, you will finally see the complete picture.
Puzzle games, like tile puzzles, can help improve spatial skills in kids. This skill helps visualize the location or dimension of objects and how they relate to each other. A good example of this is having a physical understanding of the solar system.
There are many tile puzzles to choose from. You can choose from characters, patterns, dinosaurs, or trucks. There are all different levels in our tile puzzles, so kids of any age can have fun moving the tiles around to complete the picture.
This is a fun game to play with a partner or alone. It's fun to work together and may help boost your child's confidence if they're having trouble finding the right placement at first.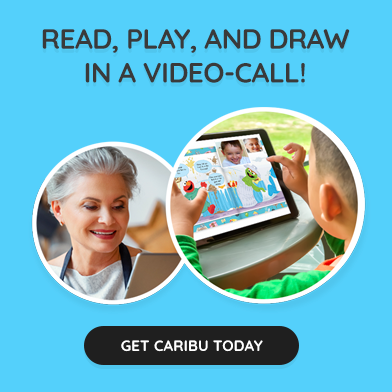 4. Sequence Games
Once you try this game, you'll be playing it when your kids go to bed. Sequence games require you to find the right sequence to complete the puzzle. One example is a long stretch of pipes. To complete the pipe path, you have to connect the correct color pipe openings. When you are finished, it resets and mixes all the pipe pieces up to make a new puzzle.
Kids will love playing the different sequence games and trying to figure out the right patterns. This game is awesome for their critical thinking and perfect to play along with as the parent. Plus, did you know that kids learn better in a social setting? When your child plays with their cousin over a Caribu video-chat, it can help them learn even more!
In this game, you need to color all the different objects in the picture. Once everything is colored, then you find the items that don't belong. Maybe there's a wrench with kitchen utensils or a bow hidden among some tools. Kids love coloring and being the first ones to find something that is out of place.
This game is a lot of fun to play with somebody else. If your little one is not interested in talking to grandpa over video-chat, they may be more engaged if you play this game. They can color while opening up to grandpa and they can look for the outlier together. Before you know it, they will be begging you to call grandpa to play together again!
6. Spot The Difference
You know the drill! There are two pictures with slight differences. Your goal is to find the differences between the pictures. We have tons of pictures to choose from: Sesame Street, holiday pictures, Hot Wheels, animals, and a tea set. Whatever your little one is interested in, there is a picture for them!
Your child can play this game alone or invite someone to join in on the fun. They can work together or add in a little friendly competition to see who can find the most differences. Once they're done playing the game, they can color in the sheets to have even more fun.
7. Word Searches
Word searches are a fun way to reinforce letters and spelling, depending on your kid's age. In a word search, you have a word bank and your goal is to find those words in the scrambled letters. Some word searches are more challenging, with words even bending at a right angle! This is a fun activity to unwind with after a long day.
Word searches are great for all ages. Whether you're just learning your letters, or you have been reading for 80 years, you will have fun finding all of the words. Do you circle your words or draw a straight line through them? It'll be fun to see what everyone prefers and how passionate they are about it.
8. Sudoku
We've taken the Japanese game sudoku and changed it up a little bit. Instead of nine smaller grids to make one big grid, we have much smaller grids to start with. We've also used different shapes and colors to convey the patterns, instead of the numbers one through nine. These changes help make the game of sudoku more accessible to kids.
You may need to help your child understand the concept of sudoku, which is to avoid having a duplicate shape or color in the same row or column. Once they start to catch on, they'll love doing these brain teaser games. On the next call with Uncle John, make sure to let them know how good they've gotten at sudoku!
9. Matching Games
Our matching games come in many different options. You can match an animal to its shadow, find the pair of flip flops, match the word to its picture, or match numbers to the right amount of items. No matter how old your child is, they are sure to find a matching game that they like.
Playing our matching games can help reinforce concepts that your child is learning at school. Whether they're working on reading, numbers, or learning that lemons make lemonade, they'll love this game! This is an engaging game for them to play while the grandparents are on a Caribu video-chat. They will love showing off their completed matching game!
It's Game Time
No matter what your child is interested in, Caribu has a game for them. Our favorite games always have a little educational spin on them, but your little one doesn't have to know that (it can be our little secret). The games we've called out are perfect for solo play or playing with a friend. Your kids will never get tired of these nine amazing games.
At Caribu, our goal is to bring families together in a fun way, even if they are miles apart. With our games, whether someone is on the other end of a video-call or not, your kids are sure to have endless fun!
Sources:
Working Memory Training in the Form of Structured Games in Children with Attention Deficit Hyperactivity Disorder | NCBI
Puzzle play helps boost learning of important math-related skills | UChicaco News