As a parent, you want the very best for your children. Their happiness and safety are your utmost concern and for good reason. Technology in today's age can be such a blessing and convenience, but it can also run the risk of dangerous situations if not handled properly. With the internet, children have access to virtually anything. That can be a scary reality.
Thankfully, there are services and programs that put the control back into your hands to take those necessary measures to protect your children. We're going to be sharing safe apps with you that kids can use to chat and play games with each other. You no longer have to worry about if the app your child spends their time on is actually safe. With our help, you can take an active step towards ensuring your child's safety, something you'll never regret doing.
Children love apps that can be interactive with other children, whether they are chatting back and forth, discussing their favorite books, or playing games together and chatting about what they can do next time to do better. Every child longs for connection and positive interactions, including while playing on their devices.
What apps can you share with your child where they can create positive connections with other children or family members in a safe online environment? Below is a list of apps and the great benefits they offer for your family!
Apps That Offer Video-chat
Children love video-chatting, especially with family or friends they love. Getting to connect with others outside their home is great for their socializing skills and development. Seeing someone's face while talking with them helps kids connect the other person's voice with their face. It also helps them engage in the conversation more easily than if they were just speaking over the phone with someone. Just like if they're talking with someone in person, they're able to see their expressions and mannerisms, not just hear their tone of voice.
This service offered in an app allows children to explore connections with others outside their home much easier than apps that don't. Do you have grandchildren that live far away and you only get to see them here and there? Do you wish you could spend more time with them but don't know how? Video-chatting is a great way to connect with your grandchildren. It creates a space to be able to bond together and create memories for them to grow up with and cherish.
What other apps are great for kids to use to chat and play on?
Apps That Include Games
It's no secret that children love games! They could play games every day, all day if it was their choice. Games are exciting and entertaining for kids because there are so many different types to choose from. Not only are they fun, but can be very educational and benefit your child's development. How amazing is that?
Children that play games often make use of their eye-hand coordination and other beneficial skills such as problem solving and reading. These are just a few of the areas that children exercise when playing games. They're always using their brain to think of the next step, how to accomplish the goal of the game and what rules they need to keep in mind while strategizing. What are some games that bring out these skills?
Mazes
These are fun games that kids need to use their problem-solving skills to complete. Every maze is different and in order to get to the end of it, they need to be looking a few steps ahead to see if they can proceed. These challenging courses really get your little one's brain working!
Word Searches
This type of game is simple, yet can be so challenging. Word searches test your child's reading skills and their ability to focus. They require a great amount of concentration to be able to locate each word within the abundance of random letters. Does your child like working on word searches or by themselves?
These games usually come with a certain amount of hidden objects within a picture, which requires your child to be able to count to keep track of the items to know when they're done. It also challenges them to remember what something looks like to be able to locate it again.
Tracing Games
Is your child learning how to spell and write? There are tracing games where they can practice tracing uppercase and lowercase letters. This encourages your kids to learn how to write letters so they can eventually spell and write full words and sentences. Different themed tracing games can make learning fun for your child.
Scavenger Hunt
Kids love scavenger hunts, especially when they get to complete them with a partner. These games unlock your child's adventurous side and give them the chance to be a detective who is on a mission to solve the mystery of the lost objects. This enhances their ability to pay attention to details and increases their focus on the task at hand.
Sudoku
These fun games test your child's ability to problem solve and think a few steps ahead to solve them. They also stimulate your brain, which is so good for children who are growing and learning. Given how challenging they can be, they are great for kids who like more difficult games. Watch your kids think through these puzzles and jump for joy once they've completed them!
Matching Games
Apps with matching games are always fun and entertaining. These games are great for testing your child's memory and ability to pay attention to detail. With different themes of matching games, your children have a variety to choose from. Your kids can play by themselves or choose to work together to finish each one.
Apps That Offer Games To Play While Video-chatting 
Not many apps offer the ability to video-chat while playing games. However, there is an app that has this feature and children love it! Caribu gives your family the chance to play thousands of games while having the option to video-chat family or friends while doing so.
This allows for parents and grandparents to be able to video-chat their kids and grandchildren while playing games together. Does your child have a friend that they would also like to play with? They can video-call each other while playing games together on the app.
What Else Does Caribu Offer?
Not only does this app give you and your family the chance to play as many games as you could imagine, but it also offers ebooks, coloring activities, and more. You all get to explore the fun opportunities that Caribu has to offer together.
Sit down and read an adventurous book together, or work together to color in the different fun themed activities. Video-chat grandma or grandpa and work together to solve the Sudoku puzzle.
Give The Gift Of Caribu
Are you looking for a special gift to give your grandchild for their birthday? Caribu is a gift you'll never regret giving. With thousands of games, books, color activities, and more, your grandchild will have a blast each time they play. And the best part? You get to join them in on the fun no matter how far away you may be! With Caribu's video-chat services, you can see your grandchildren while they play their games, and you can even play with them if you want.
Are you looking to give your child's grandparents a gift they will absolutely love? The gift of Caribu offers hours of quality time for them to spend with their grandchildren and have fun bonding over exciting activities. They'll never get tired of working together to accomplish a game or reading a book together. This gives them the chance to create sweet memories that will last forever.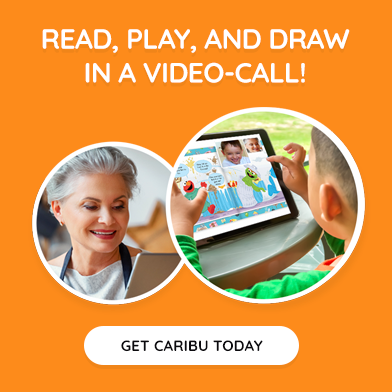 Choose Caribu And Let The Fun Begin
When it comes to the vast amount of different apps that are available for your children, it's always important to choose one that you know your kids will love and will be safe while playing. Caribu has so many helpful and creative features that make playtime exciting and invite bonding opportunities for the family.
What activities does your child love to do together? Is it snuggling up while reading a book? Working together to solve a puzzle? Seeing who can finish the game the fastest? Having a chit chat while coloring? Whatever it may be, Caribu has every activity your child could want to do and will love it!
Get Caribu and have peace of mind knowing your family can have fun chatting and playing games while staying safe.
Sources:
The Benefits of Early Childhood Friendships and 3 Tips for Helping Your Child Establish
Meaningful Friendships | Exchange Family Center
6 Surprising Benefits of Video Games for Kids | Understood