There's something incredibly special about the bond between grandparents and grandkids. If you live far from your grandkids, you may feel like you aren't able to create the bonds that you're hoping for.
Luckily, we live in a time where distance is blurred by technology. You may not be able to give your grandkids big bear hugs as often as you want, but you can still create lasting memories in the time you're apart. Keep reading for nine tips and tricks for long-distance grandparenting!
1. Create A Schedule
The first trick you should do to keep a connection with your grandchildren is to create a schedule. Life gets busy. You have your own obligations, and trying to keep up with a young family's schedule is next to impossible.
Setting a time on the calendar each week or even every other week to connect virtually keeps your time with your grandkids top of mind. Even if you talk to their parents more regularly, make a special time for just you and them. It will make them feel extra special and build an even stronger bond between the two of you.
2. Connect Through Video-Calls
Living far from your grandchildren can make it difficult to connect with them. If you can only see your grandchildren a few times a year, you'll need to build those connections in more creative ways.
One of the best ways to do that is through Caribu video-calls. Not only can you see your grandkids smiling faces, but you can engage with them in fun, entertaining ways through books, activities, and games.
3. Remember The Big Milestones
Even if you live far away from your grandkids, it's important to make the big milestones in their lives extra special. Birthdays, the first day of school, first lost tooth, first soccer game, school performances, and preschool graduation are all reasons to celebrate!
There are many ways to celebrate them without being able to be there in person. You can send a little gift or card, schedule an extra video-call with them, or send them a gift card to have a little treat. Whatever you decide to do, they will love knowing you're celebrating with them from afar.
4. Play Games Over Video-Calls
Like most kids, your grandkids' attention span is probably not particularly long. It isn't uncommon for kids to quickly lose interest about three minutes into a video-call, or really anything they do! One way to beat this and keep kids more engaged is by playing games with them.
With Caribu, you can challenge your grandchild to an exciting game of Memory, Spot the Difference, or help them find the way out of a maze. Not only do games help to keep kids engaged with you, but they can let you bond with them without having to play 20 questions.
5. Share Family Traditions And Culture
As a grandparent, you're often the keeper of family traditions and culture. If you're looking for ways to bring variety into your scheduled video-chats, think of ways to include your culture. You can participate in a holiday tradition, teach them about where you were born, and tell them stories about when you were young. As time goes on, you can build on these stories, and soon, they will become the keeper of the traditions and culture.
6. Read Stories Over Video-Calls
One of the joys of being a grandparent is enjoying a good book with your grandkids. Luckily, with Caribu, you can still snuggle up and read them stories without having to be in the same room. Caribu has thousands of books to choose from. You and your sweet grandchild can pick an exciting adventure book, learn something new, or fight crime with their favorite superhero!
You can even give their parents a night off from story time, and read to your grandkids before bed. Creating little moments like these can help you foster your relationship with your grandkids, regardless of the distance between you.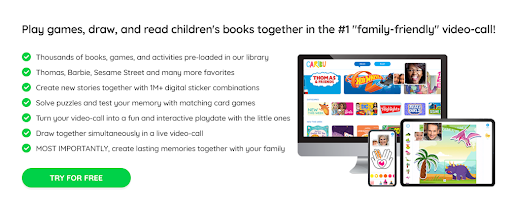 7. Send A Letter
Yes, we know, this is so pre-90s, but there's something magical about receiving something in the mail, especially for kids (all adults get are bills and junkmail). Sending a letter in the mail gives your grandkids something of yours that's tangible. Try adding in something small like a sheet of stickers.
If your little grandchild is starting to read, try using words they can sound out easily. Their parents may be able to help guide you here if you're having any trouble. This can be a special tradition for the two of you, lasting long throughout their life.
8. Color Together Over Video-Calls
Another way to engage with your grandkids over video-call is by coloring with them. This activity is great for younger kids and kids who love to show off their artistic side. Caribu has hundreds of coloring activities to choose from. You can color their favorite character, choose a sheet that ties into the season, and learn how to draw an animal, food, or vehicle.
Use the coloring sheets to help guide the conversation. Why is this your favorite character? Have you ever seen a panda bear before? What's your favorite part about this time of year? This can help spark a conversation that's entertaining for both of you!
9. Cook Together
Sharing food helps connect people to each other and also helps to teach young kids their traditions and culture. Yes, cooking miles and miles apart can pose a challenge, but with a little creativity, you both can feel more connected to one another.
With the help of their parents, set up a video-call and cook together as a family. Start with something easy or sign up for a kids cooking subscription box that you can do together over Caribu. If you need help finding ideas, Caribu has easy-to-make recipes that are kid and grandparent approved. Sure, you will have each cook the same thing, but you can enjoy the process together! You may even help get your grandchild to eat something new.
Make The Most Out Of In-Person Visits
Even though you may live a long distance apart, there are likely times you get to visit your grandkids. While these visits may not be as frequent as you would like, when they do happen, it's important that you make the most out of them.
Stay engaged with your grandkids. You can do all of the activities you do over video-chat in person. Creating these bonds both in person and through a video-chat only makes them stronger.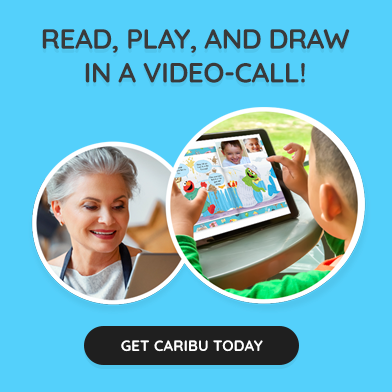 Conclusion
Building a bond with your grandchildren doesn't have to be dependent on how often you get to visit them. You can create lasting memories and connections in creative ways through the beauty of technology. A great first step is scheduling time to connect over video-calls. Once you have your schedule down, hone in on making things fun! You can read stories, play games, color, or even cook a family-favorite dish together.
By bringing positive experiences to your video-chats, your grandkids will be engaged and excited for your next call together! Once you're able to visit them again, you won't have to waste precious time.
With Caribu, you can make the distance between your grandchildren disappear for a little while. Caribu offers a simple way to talk to your grandchildren over video-chat, all while engaging with them in books, activities, and games!
Sources:
The Ties that Bind: Grandparents and their Grandchildren | Association for Psychological Science
Assessment of Attention in Preschoolers | NCBI
Sharing is Caring: A Study of Food-Sharing Practices in Australian Early Childhood Education and Care Services | NCBI