Ah, the excitement of Halloween. Has it hit your house yet? Are the pumpkin, witch, and ghost decorations out? Have your kids decided on their costumes?
Maybe they will be a superhero, a bumblebee, or even a mad scientist! Are the pumpkins carved? Got all the decor and small touches ready? If you have everything checked off your list, you win a gold star (and if not, no judgment… you still deserve a gold star!)! Now all that is left to do is to enjoy some quality family time with a Halloween movie.
Kid Friendly Halloween Movies
Halloween is known for being on the scarier side, but there are a lot of great movies out there for our little pumpkins, with little to no scare factor. Here are a few of the cutest Halloween movies around and a couple that the older kids will like too.
Curious George: A Halloween Boofest
What's not to love about that curious little monkey? In this not-so-spooky tale, Curious George and his friend Allie learn about the Legend of No Noggin and try to get to the bottom of whether or not No Noggin really does exist.
With a little curiosity and a big dose of bravery, these pals are able to conquer their fear and find out the truth of what is haunting the town. It's always fun to see what kind of trouble that curious monkey will get into!
Spookley The Square Pumpkin
It's never too early to start celebrating the differences in us all, and that is exactly what Spookley teaches us in a fun Halloween twist. Spookley is a square pumpkin who learns to be proud of being different with the help of his trusty spider friends.
Some of the bigger, meaner, and more round pumpkins in the patch think that square pumpkins don't belong. Yet when things go wrong, Spookley is there, and his differences might just save the day.
Casper's Scare School
We love a good story where kindness and generosity win in the end. Our favorite loveable ghost Casper has to go to school to learn how to be mean. Of course, even though he tries, he cannot seem to make the cut.
If you are looking for characters that have a good understanding of right and wrong, and go through life with a positive, friendly attitude, Casper is your guy (or ghost). You could even make some ghost treats with the kids before the movie begins.
Happy Halloween, Scooby-Doo!
Do you think your little tyke is ready for something a little more spooky? If there has ever been a franchise that can walk the line between a little scary and kid-appropriate, it's Scooby-Doo. Happy Halloween, Scooby-Doo is no different.
Scooby and the gang must take down the bad guy who is trying to destroy the town of Crystal Cove with a bunch of evil jack-o'-lanterns. As always, Scooby-Doo and Shaggy are there to provide endless laughs throughout this who-done-it mystery.
If your kids turn out to be big Scooby-Doo fans, they can share their love with grandma and grandpa too! Caribu has 10 comic-book-style Scooby-Doo books that they can share with their loved ones over video-chat.
It's The Great Pumpkin Charlie Brown
Do you ever sit and think how amazing it is that kids are still sitting down and watching Charlie Brown? We're not talking about the newly updated movie, The Peanuts Movie, with all of its high-tech animation (which is actually quite good, if you get a chance to watch it).
We're talking about the classics, like It's The Great Pumpkin Charlie Brown. Watching this movie will transport you back to your childhood home and help you remember the anticipation you felt to finally get to go trick or treating. Bonus, your kids will love this movie too!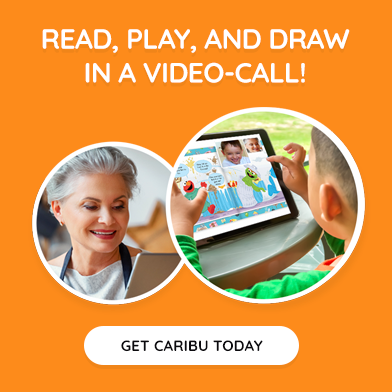 Hotel Transylvania Movie Series
If you haven't seen the Hotel Transylvania movies, get ready! You know when you sit down for family movie night, and (real talk) the movie is boring? Or, the plot can only be loved by a young child? We see you taking one for the "family movie night" team.
Let us let you in on a little secret: the Hotel Transylvania movies are a lot of fun! The movies follow Dracula, his daughter Mavis, and their band of monsters in these hilarious and heartfelt movies. With engaging storylines and an A-list cast, you'll be requesting Hotel Transylvania for the next movie night, even after Halloween.
Super Monsters Save Halloween
In this Halloween special, it seems that everyone has forgotten that it is Halloween, the most important holiday for Pitchfork Pines. The little monsters help decorate the town to get everyone into the Halloween spirit!
This is a short special only lasting 24 minutes but is just short enough for the little ones while still being engaging for the five to seven-year-olds. If you promised a movie night but bedtime came quicker than you anticipated, this is a great option. The kids will love it, and it's short enough to keep bedtime on time-ish.
Pooh's Heffalump Halloween Movie
How many times did you escape to the 100 Acre Woods when you were a kid? Winnie the Pooh and his friends have been around for almost 100 years!
In this Halloween favorite, Roo and his new friend Lumpy have to face their fears to catch the dreaded Gobloon! Pooh is joining in on the fun too and eats all of the trick-or-treat candy. This movie is a lot of fun for the whole family.
How To Keep Kids Engaged During Movie Night
It can take a lot to keep younger kids engaged in a movie. For many families, a movie night is a great option for family time, especially on a Friday, when we are all so exhausted from the week. Here are a few Halloween-specific ways to keep our kids engaged and not slipping away to the next room being "too quiet," because we all know that can only mean one thing: trouble.
Include The Grandparents
When grandma and grandpa are in the mix, it's always a good time. But, some of us are not so lucky to have grandparents right down the road to bring in that special kind of magic. That's where we come in!
Set up a video-call with the grandparents on Caribu, and they can watch the movie with you! If your littlest pumpkin loses interest, there is a whole section for Halloween with activities and coloring sheets they can do together with their grandparents.
Have A Halloween Themed Snack
How many times do you hear the word snack in your home? If your kids are anything like our kids, it's probably about 57 times a day. Before your kids ask for a snack during the middle of a movie, why not beat them to it?
Before the movie begins, get the kids in the kitchen with you and make a few snacks together. You can make little mandarin oranges look like a pumpkin with a little piece of celery for its stem or make ghosts by adding little chocolate chip eyes to bananas.
Are Movie Nights A Good Way To Spend Time As A Family?
Do you sometimes feel a little guilty about calling a movie night quality family time? Maybe you should be doing something more engaging than staring at a screen? First of all, promise us something: no more guilt! We are all doing our best, and some days, that looks like snuggling on the couch watching a movie with our kids.
Did you know a good family movie night can open conversation about more difficult topics? Good or bad, movies have a lot of different themes. Watching movies with our kids can help ease into topics that may otherwise be hard to have conversations around.
Even if your kids are little, you can ask them questions about things they see. For example, you could talk about being nice to others, even if they look different than you, like in the case of Spookley the Square Pumpkin.
It turns out, laughter is one of the best medicines! When we laugh, we release all sorts of good hormones that can reduce stress. When you cuddle, oxytocin is released, the feel-good hormone.
Pick a silly Halloween movie and pile on the couch or the floor, and snuggle up. Everyone will benefit and leave feeling happier and less stressed. That sounds like an engaging experience to us.
Happy Halloween!
For your next family-friendly Halloween activity, plan a movie night! There are so many kid-friendly Halloween movies that are not so scary for younger kids.
Adding in the grandparents and some fun Halloween snacks is a great way to keep the little ones engaged. Don't forget, at the end of the day, kids just want us to spend time with them, and watching a movie together brings them a lot of joy.
At Caribu, we know it isn't always easy to make a trip to see the grandparents. With our video-calling app, you can include grandma and grandpa into your next "spooky" Halloween movie night and even do a Halloween activity!
Sources:
A family that watches movies together, can learn together | Penn State University
The Real Health Benefits of Smiling and Laughing | SCL Health
Can You Kiss and Hug Your Way to Better Health? Research Says Yes. | Penn Medicine