Have you ever been out and about running errands with your toddler, and they start to get antsy? Believe us, we've all been there. They don't want to just sit quietly until you are finished at the bank.
They want to get moving, and they don't care who knows it! During these times, you may want to have a few educational videos on standby to help your little one stay entertained (and quiet) while you get the last of your to-do list checked off.
Caribu has many fun read-along videos bringing some of our favorite stories to life. Some are read by the author of the book, by playful puppets, celebrities like LeVar Burton, Mackenzie Lee Foster, and Kevin Jonas, and some are even read by our CEO, Max Tuchman. These are the perfect educational videos to keep your toddler engaged when you need them to be. All of the below videos can be found in the Watch Library in your Caribu App.
1. Caribu CEO Reads: Why, Why, Why?
Is your family multilingual, speaking both English and Spanish at home? Or, do you want your child to be exposed to different languages while they are young? If so, then this video is a great place to start. Max Tuchman sits down to read the book Why, Why, Why, in both English and Spanish!
Not only will your child hear this story in both languages, but they will also love all of the cute animals in the book. This sweet story introduces many different animals and talks about what is special to them— the owl's big eyes, the flamingo's long legs, and the giraffe's long neck. Your child will learn more about what makes animals different, and how our differences can make us special.
2. Andre Fluellen Reads: Harriet The Hippoyogamus
This video is sure to get your toddler's attention! Former NFL player Andre Fluellen sits down with his daughters to read Harriet the Hippoyogamus. Harriet is a hippo who loves yoga. Andre and his girls giggle and stretch throughout this video teaching kids all about yoga, with the help of Harriet. Your little one will love watching them practice their stretches and will likely be trying some out themselves. You've been warned!
3. Sammy The Snail Reads
Sammy is a super silly snail puppet that your little ones will love! He sings, makes funny comments, and is super entertaining. Sammy the Snail is sure to keep your little ones focused on the story. There are a few different videos with Sammy, but here are some great recommendations for your toddler.
Rain, Rain, Go Away
In this video, your toddler can follow along while Sammy the Snail reads Rain, Rain, Go Away, a book all about simple weather. When it rains, you either need to stay inside or put on your rain boots and raincoat. Wait, don't forget your umbrella!
When it's sunny, make sure to get outside and play! This video also helps teach kids that even when the sky is a little gray, you can still have a fun time with your friends.
Time To Wake Up And Go
In Time to Wake Up and Go, your toddler can follow along as a fellow toddler goes about their day. Listen and watch them wake up, get dressed, go to the park, and finally go to sleep. This can help your toddler by seeing other kids follow a routine. Plus, Sammy the Snail makes this story come to life with his beeping car, which goes much faster than him!
4. Jennifer Patrick Reads: Nesting Neighbors
Does your toddler love to point out all of the birds they see outside? Do they love watching the birds as they come and go? If you answered yes to either of those questions, then your toddler will really enjoy this one. In this educational video, Jennifer Patrick, the author of Nesting Neighbors, reads her book all about how robins make their nest and care for their eggs.
What's great about this video is that your little one will get a bird's eye view of the whole robin family! Eventually, the eggs will hatch and out will pop three robin chicks! Now, your toddler can learn how the mommy and daddy robin take care of their little chicks. This book is an incredible way to get your toddler curious about the world around them.
5. Dr. Jen Welter Reads: Critter Fitter's Wearing A Mask Says I Love You
Is your toddler having a hard time wearing a mask? In this educational video, Dr. Jen Welter reads her book Critter Fitter's Wearing a Mask Says I Love You. Fun fact: Dr. Jen Welter was the first female coach in the NFL! In this particular video, she makes her book come alive while taking a scary topic and making it easier to understand for kids.
In this video, your toddler can learn all about the COVID virus in a very easy way. They will learn how the virus can be passed and what they can do to protect themselves and others from getting COVID. This can be a scary time for any of us, and especially for little ones. However, when they're able to be taught about hard topics using cute critters like bugs, it can be easier for your toddler to grasp these concepts.
6. Abram Makowka Reads: Dog Bird Plays Hide And Seek
Every toddler loves a good game of hide and seek. In this read aloud, Abram Makowka reads his own book, Dog Bird Plays Hide and Seek.
This book is all about the magic of friendship and how to be a good friend. Dog Bird is so proud of his friend Avery and what a good hider he is that he wants to tell his new friend (the reader) all about him! This story teaches you and your little one how to have fun and celebrate the friends in your lives.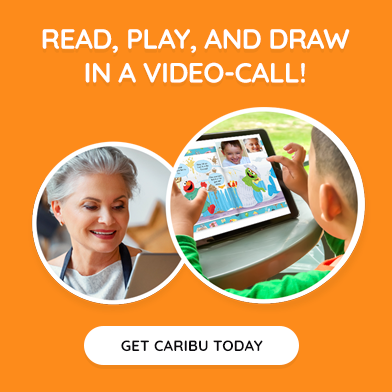 7. Leslie McCrary Reads: Shoo Wee Okapi
Toddlers are always interested in animals, but you don't have to only introduce them to the animals that can be found in neighborhoods, farms, or zoos. There are so many more animals out there that they can learn about from an early age.
In this educational video, Leslie McCrary sits down to read her book, Shoo Wee Okapi, which is all about her favorite animal, the okapi. Not only does this video show you all sorts of new animals, but it shows your little one that even if they have stinky feet like the okapi, they should be proud of who they are!
8. Graciela Castellanos Reads: I Like Myself And Me Gusto Como Soy
Self-love and acceptance are so important to teach our little ones. Not only can it make them more confident, but showing them how to celebrate themselves early on can help them in a multitude of ways as they get older. Work with them to foster that positive self-talk as early as possible.
In this video, your toddler will learn a few different ways to love themselves, from their eyes to the way they help others. The pictures and story are especially engaging for little ones. Graciela Castellanos is the author of I Like Myself and she also wrote Me Gusto Como Soy in Spanish.
9. Diana Perez Reads: Landon Rides The Subway
New experiences and places can be overwhelming for young kids, but when they get to see them in a video, it can feel less scary. In this video, Diana Perez reads her highly imaginative book, Landon Rides the Subway.
In this book, Landon goes on the subway with his mom to the museum. He brings your little one along on the adventure with him, pointing out all of the exciting things he sees. After watching this video, it's safe to say that your child will be asking you when their next subway ride will be!
Landon Meets The Food Trucks
You can also watch Diana Perez read her book, Landon Meets the Food Trucks. In this one, Landon and his mom get hungry on the way to the museum, and they stop to learn about the many different food trucks. What type of food will your little one choose in the end?
10. Mackenzie Lee Foster Reads: What's Meant For Me Will Be
Toddlers are very interested in other kids, even older kids, which is what makes this next video so great. Mackenzie Lee Foster, (who you may remember between emotional sobs while watching This Is Us), reads her book What's Meant for Me Will Be. Mackenzie was only eight years old when she wrote this insightful book about a little girl who is trying to find her true passion.
What she realizes is that she can decide what's best for her by working hard at the things she loves. This is a great lesson in perseverance and determination, two qualities that will benefit your child immensely.
Your toddlers will also be enchanted by the colorful pictures and the animated storytelling. Even though they may be little, they will still learn that only they get to decide who they want to be. Even if they tell you they want to be a dinosaur when they grow up, you can find solace in knowing that they made that decision for themselves.
Conclusion
If you are looking for educational videos for your toddler, our read aloud videos are a fantastic place to start. These videos focus on bringing the stories to life in an effort to engage with children in a different medium. Your toddler will also learn a lot more about themselves and the world around them in the process.
Caribu is passionate about bringing engaging content to your little ones that they can share with the people they love, no matter how far away they might be.
Sources:
Multilingualism | ZERO TO THREE
Five tips for talking to young children about COVID-19 today | Penn Today
Okapi Animal – Key Facts, Information & Habitat | Animal Corner