How many times has it happened when you're talking to the grandparents, aunts and uncles, or a family friend over video-chat, and your little ones are off in another room? Maybe they have hijacked the tablet or iPad and are taking your cyber guests for a grand tour of the house. The best way to get them to sit still and engage with their loved ones? Include stories and games on your next call!
By adding games and stories into your next virtual family time, your kids will be more engaged in the video-call. Are there cousins on the other side of the screen? The kids can play a fun game together all on the same screen. Finding ways to build memories even though we are far apart is important for building connections with the people we love.
Caribu is an app that combines video-chat, games, stories, and activities all in one place, creating an interactive, shared-screen experience. We are your resource for all things fun and family. You can make a free account and explore all we have to offer, together.
Even if you are hundreds of miles away, your kids can still connect with their loved ones through engaging, memory-making moments. Here are some ways to add more engagement to your next Caribu video-chat!
Adventures With Stories
Did you know that kids who have five books read to them a day have heard approximately 1.4 million more words than a child that was not read to? That's incredible!
Even reading one book a day increases the number of words heard to 290,000. You may think all those hours of reading with your child are just purely for the joy of it but in fact, the more books you read together, the more prepared they will be for school.
This is helpful because school is where they will explore different genres besides just children's books, such as science fiction, poetry, or classics by authors like Lewis Carroll, Jane Austen, Chinua Achebe, and Charles Dickens.
The great thing about living in a technological world is that now even grandparents, aunts, and uncles can share the joy of reading with your kids. With Caribu, you can set up the kids with Aunt Alice and their cousin Libby and together, they can read a book whether you hit the local library or you choose one of our stories.
Can you imagine multiple kids on one video-call all engaged? It's what dreams are made of! If Auntie Michelle has got the kids occupied, you may be able to sneak away for five minutes of quiet time (or longer, depending on how the day is going). Just let her know you have the next call, so you can repay the favor.
Favorite Characters
In Caribu, we have many of your children's favorite characters. From the youngest to the oldest, these lovable characters are sure to brighten everyone's day! Barbie can join your video-chat through an engaging book and show your kids some of the exciting professions that she's been exploring like being a scientist and firefighter. Barbie is always positive and ready to try new things.
Your kids can travel to Sodor with grandma and visit Thomas and Friends as they explore the rails and help each other out of tricky situations.
They can even take a walk with grandpa on Sesame Street while they learn about numbers, letters, and how to be a good neighbor. All of these classics and more are available on the Caribu app.
Chapter Books
If your kids are a little older, they may be getting into chapter books. You're in luck, because Caribu has those too! What makes chapter books a great option to read through video-chat is that they keep the kids excited for the next call with their family.
Chapter books are also a great way to stay connected with your child if you are a parent who travels for work. Make it a point to spend time in the evenings talking about each of your days and reading a chapter together every night. It's a great way to keep up with their daily activities even when you're away for work.
Graphic (Comic) Books
Graphic books are all the rage and bestsellers these days. Has your kid introduced them to you yet? On the outside, they look like regular books but on the inside, they look like comics. Not so surprisingly, kids love following along the pages of action-packed graphics!
Is your kid into DC Comics? They could jump into these superhero tales with their cousin that lives three states away and discover this whole new world together. Superheroes aren't the only characters that get to live in comic books.
Your kids will also be able to go along with Scooby-Doo and the gang to solve a mystery. Is it a laugh everyone is after? Just click on one of the hilarious Looney Tunes graphic books and everyone is sure to be rolling on the floor laughing. Seriously, who needs a library card when you have an open library, 24/7, right in front of you?
Non-Fiction
Caribu doesn't just live in the world of make-believe and fairy tales, although we do love it there. You can also learn about history, animals, and people who have made a positive difference in the world through non-fiction books.
Even though little kids usually pick the fun and popular books when they want to read a story, try encouraging them to pick a non-fiction book every once in a while. Non-fiction books can boost kids' vocabulary, help them learn about the world around them, and show constructive solutions to real-world problems.
Is your kid learning about the weather and clouds in school? If so, then check out the book Spring Weather to read with Uncle Kareem and share what they learned in school that day. Have your kids decided they want to take up soccer? On their next video-call with grandpa, they can tell him all about it and read Having a Ball together to learn about an awesome pro soccer player!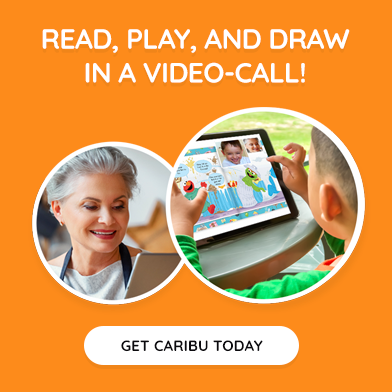 It's Game Time
Who doesn't love a good game? Personally, we love family game time because it's a time to relax, be silly, laugh, bond, and make a whole lot of memories together. Games also help kids develop non-cognitive skills such as focus, teamwork, confidence, and persistence.
If you are planning a game night this weekend, see if grandma and grandpa want to join in on the fun and good times. You can set up a video-call with them through Caribu and even many miles away, they can still be a part of the memories.
Caribu Games
Have you ever been on a video-chat with a kid? They either leave and play something else, take you on a dizzying treasure hunt, or don't say a word. Having the games and the video-chat on one screen helps the kids stay engaged and will help them communicate better.
There are many amazing games on the Caribu app that your kids and family members can play together. No matter your child's age, there is sure to be something they will enjoy.
Kids can choose from challenging their cousin to a game of memory, finding their way through a maze with their aunt, or spotting the difference with grandma. There are puzzle games like sudoku and tile puzzles that can give a little challenge to both kids and adults. If you have really young kids, then consider doing one of our coloring sheets! It'll put their little minds into overdrive for fantasy and fun.
Charades
Charades gets everyone up and moving, and it's such an easy game to play over a video-call. You probably already know the ropes of this classic game. Each side of the video-call can have some words to act out. If you have little ones who cannot read yet, try putting together a bowl of picture words for them instead.
They will feel great about being able to play all by themselves. When it's your turn, pick a word and try to get the other side to guess. Feel free to keep score if you want but what really matters is that everyone has fun. It's not about pride or winning!
Guess The Drawing Game
Who doesn't love this game? You draw a picture of the word you pick, and the other people have to guess it. It's so cute to see all of the kid's drawings. You really get a sense of their developing personalities.
What makes this game so fun over video-chat is that Caribu has blank drawing sheets. Pull up one of those sheets on the screen and have a blast! For the words, you can either make more or use any leftover words from your charade game.
Video And Online Fun
A video-call with kids is no easy feat. Adding stories to your video-call is a great way to keep the little ones entertained. You can read stories about wonderland and other far away sci-fi worlds, as well as superheroes. You can also learn about the weather, famous athletes, and much, much more.
Games are another way to keep kids entertained on a video-chat. You can play the 'Guess The Drawing' game, charades, or one of the many other games on the Caribu app.
However you choose to help keep your kids entertained and engaged, you will be making new family memories, no matter how far apart you are!
At Caribu, we love bringing families together. Our games and stories are hand-picked to bring the most engaging experiences to your little ones and the ones who love them. Download the app today and get started with free ebooks, games, and so much more!
Sources:
The importance of reading to kids daily | Ohio State Education and Human Ecology
5 Reasons Children Need More Non-Fiction Books | Room to Read
Using games as an educational tool provides opportunities for deeper learning, panelists at Stanford event say | Sanford