By Malinda Coler, Cofounder, LessonsUp
It's Fourth of July weekend, and people across the country are planning virtual fun for the holiday. Many families this year are choosing to avoid in-person socializing due to the COVID-19 pandemic, especially those who are older and more vulnerable. Despite the distance, family members can still log in to apps like Caribu and connect with relatives through books and activities in a video-call.
Although virtual festivities are the safest way for older relatives to celebrate, the technology involved can pose its own set of challenges. While apps like Caribu are designed to be easy to use, sometimes older family members are the most likely to have technical challenges related to virtual fun.
For example, Gae S., a retired H.R. and cultural diversity expert based in San Francisco, recently received a new iMac, a generous gift from her daughter. Initially, Gae had to break the news to her daughter that she had no idea what to do with it! Gae's daughter tried to help her get started, but after multiple failed attempts, Gae set out on her own to try out technology lessons.
"I want to surprise my daughter and show her that I can do it!" said Gae, "I'm not dumb, I just can't figure out how to BCC on my Mac!" she explained.
Gae is not alone. According to a recent Pew Research poll, 73% of people 65 or older report needing help with their devices, and families often don't know how to support them. Teaching and learning technology skills is like taking on a new language. It requires practice, patience, and repetition.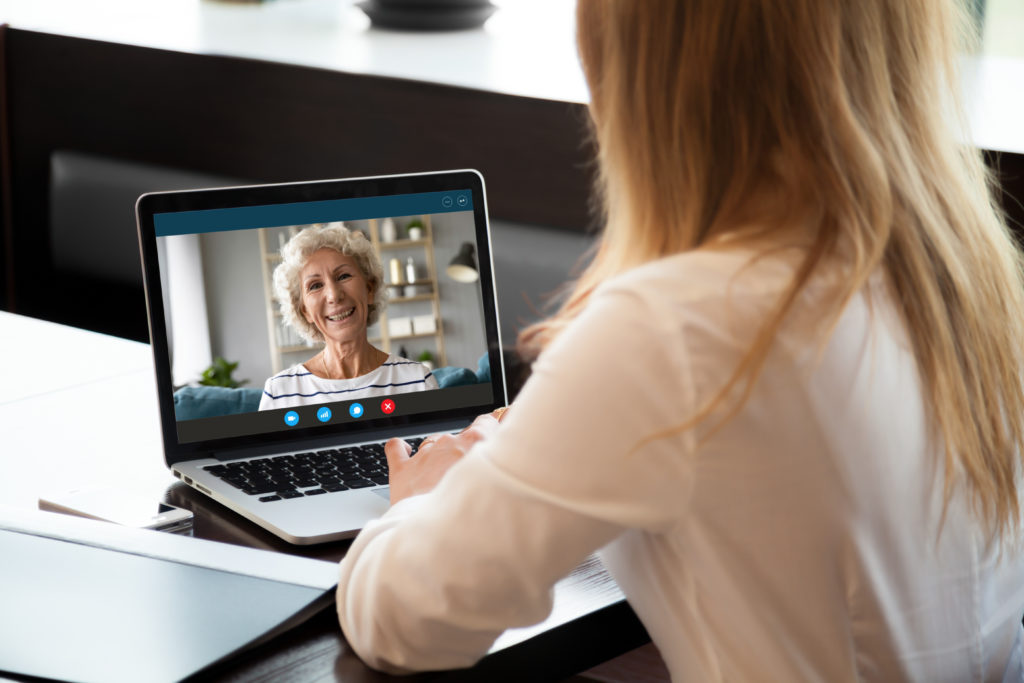 Gae chose to work with LessonsUp to get one-on-one tutorials from her own personal tech instructor. She works with the same instructor for up to six lessons over phone and video chat to build the skills that she needs to become more technologically independent. Lessons move at a pace that is comfortable for her. They focus on areas that will have the biggest impact on her ability to adapt to smart technology, such as setting up autofill so that she doesn't have to continually type the same information.
LessonsUp has been supporting seniors with technology needs throughout the pandemic. We have developed tips based on our experiences to help you support less tech-savvy family members. Take a look at LessonsUp's Top 3 suggestions for supporting family members with technology.
Listen
Before you start dictating instructions to mom, take a minute to ask her about her biggest frustrations, and listen. By the time people ask for help, they're usually frustrated, confused, and even ashamed. You can create a positive learning mindset if you listen and practice empathy. When people feel that their frustrations have been heard, and that their concerns are validated, it makes them more comfortable and receptive to learning new skills. This makes it much easier for people to follow instructions and remember them, saving both you and mom more time in the future. Take notes on the biggest pain points so you can acknowledge areas of challenge and revisit them as you break down instructions later. Remember, technology is not easy.
Ask
Ask, "How would you normally do _______?" Start with this question when you're walking someone through a process to help identify errors that have become habits. Most people have a natural starting point when they try to solve a problem, and if someone is not experienced with smart technology, their "start here" point might be wrong.
For example, Tania recently told LessonsUp that her Facebook groups were disappearing. When we asked her to show us how she normally tries to find her Facebook groups, we discovered that she was looking in the wrong place. This made it much easier to help her get on the right track. We were able to review what she was doing wrong, find out why she was doing it, and correct the habit. If you take the time upfront to walk through a user's process and correct errors, you save a lot of time for everyone in the future.
Learn
With a little time upfront to listen and correct mistakes, you can start guiding mom step-by-step. To be most effective and help ensure retention, follow a three-step teaching process.
Show the complete end-to-end process at least once so mom sees where she's starting and where she's going.
Guide her through the process step-by-step, having her complete each step on her own per your directions. This hands-on practice is essential to building skills and retaining them. If you do the process for her, which may seem like it's faster in the moment, she will not be able to remember it later. Two weeks later she will ask you the same question again! Be patient and give her time to try each step on her own, so she can learn the process for herself.
Observe her attempt the process at least once on her own without your guidance. It may take a couple of attempts for her to go through all of the steps without asking for help. During each run through, give her a moment to remember the steps before you correct her. Remember, she needs to be able to do this when you're not there!
If you follow the 'Listen, Ask, Learn' model you'll overcome a lot of the struggle that typically occurs when you try to help. Even the most tech-savvy people sometimes can't identify gaps in knowledge and tech usage. They might rush through instructions, and then have to spend twice as long as would be necessary to re-teach skills and processes.
This 4th of July weekend, set aside some time to help less tech-savvy family members adapt to virtual environments with a process that's designed for them! By making space to support them during social-distancing, you will be able to spend more time connecting together in the future.
Looking for more ways to connect virtually this holiday weekend? Download the Caribu app and invite friends and family members to read a book, play a game, or color together in a virtual playdate! You can also sign up for #CampCaribu, the only summer reading program that you can do together with family and friends in an interactive video-call while social distancing.
---
Malinda Coler is the Cofounder/CEO of LessonsUp, and she loves building communities around high-impact social missions. At LessonsUp, she's on a mission to help seniors adapt to today's technology so that no one is left behind as access to essential and leisure services goes digital. She's building a community of Tech Instructors, and providing them the opportunity to develop supplemental income streams through tech lessons. Reach out to her at malinda@lessonsup.com to learn more.