Sponsored by Storypods.
After a fun virtual playdate on Caribu (full of reading, coloring, and playing games together), do your (grand)kids ever ask for just one more story at bedtime?
If your kids are anything like Daniel Buelhoff's, this is a nightly occurrence. And for Daniel, life gets in the way of being able to read his daughters as many stories as they'd like each night. So he created a new-age storytelling device so that his daughters could fall asleep to a story anytime.
Meet Storypod, a magical figurine-activated speaker for kids. It plays fascinating stories, music, and learning topics in English and Spanish.
An Unexpected Beginning
Daniel is a serial entrepreneur from Berlin, Germany, now living in Miami, who came up with the idea for Storypod as a new-age version of his beloved childhood audio cassettes that he re-discovered with his daughter during his cancer treatment back in 2018.
"So here I was finally hitting my stride as a foreign entrepreneur in the US, when life throws me a major curveball in the form of lymphoma. While back in Berlin for treatment, I discover my 2-year-old daughter's obsession with my old audio tapes of amazing German stories — and I have the classic aha moment; I'd create a digital, interactive version of this classic medium and bring the characters to life with these wonderful yarn figurines my daughter loves to play with," explains Daniel.
How Storypod Works
How Storypod works is simple: kids simply grab a Craftie (an adorable yarn figurine with a special chip in it), place it on the Storypod speaker, and are transported to a fantastic audio world of stories, music, and learning topics in both English and Spanish.
Daniel likes to think of Storypod as an interactive podcast player for kids because it isn't just for passive listening; Storypod actively stimulates children's cognition with mini-quizzes and guided prompts on what they hear. Storypod also features read-along books that allow children to develop their literacy skills by following along to immersive narrations.
The Perfect Bedtime Routine
Specially designed to get his kids to sleep stress-free, Storypod is a perfect addition to your bedtime routine. Parents can set a sleep timer and dimmable night light so their little ones can fall asleep listening to their favorite bedtime stories, lullabies, or white noise soundscapes.
Storypod even lets distant family members get involved in story time from far away. Through the Storypod app, family and friends can record messages to a special figurine called myCraftie. Kids can receive greetings, jokes, and have their loved ones create a custom recorded reading of their favorite stories from afar.
Kids can also personalize their Storypod with interchangeable sleeves and lanyards, as well as a wide range of compatible accessories like magnetic Crafties holders, travel cases, headphones, and more.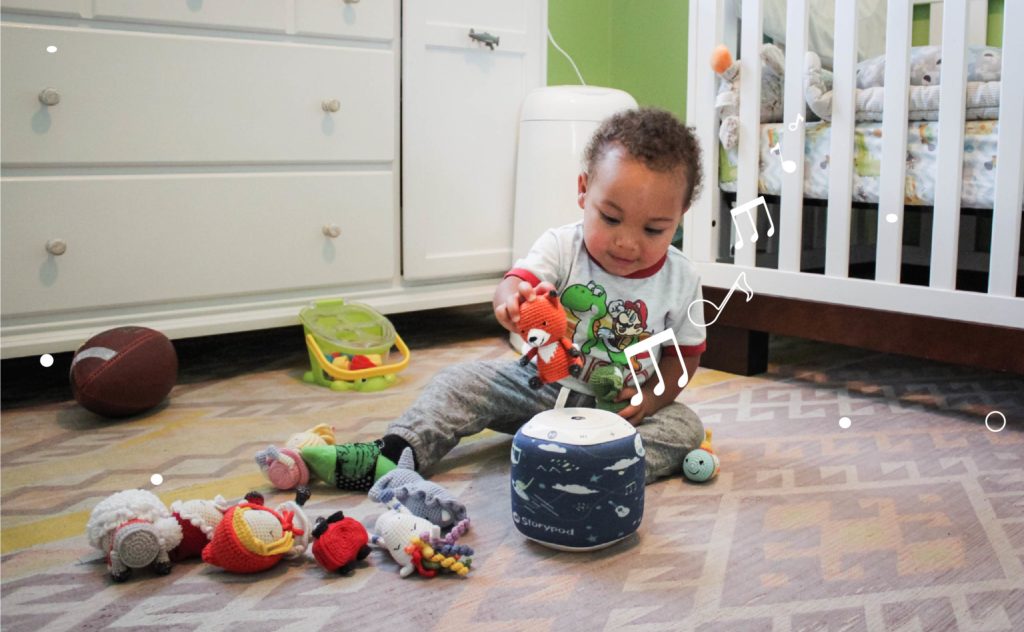 Storypod launches with a bilingual audio library of 30+ characters full with original stories, music, and learning topics created by a team of children's media experts and Grammy award-winning producers. Characters and titles range from original adaptations of public-domain classics like Cinderella to stories of historical role models like Amelia Earhart to popular children's media brands, with whom Storypod has already begun licensing discussions ahead of its launch.
Think your kids will love this new storytelling toy? Be the first to get it — Storypod goes on pre-sale on Kickstarter starting June 30, 2020. A variety of Storypod sets will be available with launch-day discounts of up to 50% off retail. Learn more here.
---
Sponsored by Storypods.