There are so many fun activities that kids love to do with cars. They're one of those objects that can be used in many different playtime games. From racing small car toys on the ground, to pretending how to drive like an adult, and building one-of-a-kind cars using Legos, to name a few that have proven fun for kids.
When it comes to drawing cars, kids who love them can have fun and create their dream car with all the bells and whistles they can imagine! Knowing how to draw a car can come in handy, especially for kids who love to draw larger pictures with many details. It can help themadd more elements to their drawings like neighborhoods, or stores with parking lots. You have to start somewhere though, and thishis simple guide will outline a quick way to draw a car. Let's get into it!
Fun Facts About Cars
Kids see cars every day whether it's when they're in their car seat passing other cars on the road or watching them outside their window driving through the neighborhood. Did you know there were over 1 billion cars being driven around the world in 2021? That's so many cars!
Let your kids in on some fun facts about cars before introducing them to this drawing activity. One incredible fact to share is that cars are made up of about 30,000 parts! Can you imagine putting a car together part by part? Another fun fact to share is when the first car was made. You can tell your little ones how the first ever automobile was invented back in 1885! This is also a great opportunity to brush up on their (and your) math skills to see how long cars have been around.
How To Draw A Car Using Pictures
Now that we know a little more about these large moving contraptions, it's time to get drawing! Are your children or grandchildren visual learners? If so, they can learn how to draw a car on our app with a step-by-step guide using pictures.
How To Draw A Car
Step 1 – The Outline
To begin your car drawing, you're going to start with the outline of the car. To sketch the outline of your car, you're going to draw two shapes starting on the left side of your page and work towards the right side of the page. This outline will complete the base of the car which you'll be working with the rest of the way.
Start the outline by drawing a long rectangle that has curved corners and is about an inch in width from top to bottom and extends as long as you'd like it to. This will be the bottom of your car.
Then, on the top line of that rectangle, just to the right of the top left corner, create a slight curve going upward to the right; this will be the hood of the car. Then, make a tighter curve and start coming back down, as this will create the top of the car.
Have the line go all the way down until it is parallel to the start of the first curved line that is meant to be the hood of the car. This line should end by connecting to the top line of the rectangle, just left of the top-right corner
Step 2 – The Windows
Since the top of the car is a large arch shape, the windows will also curve to match it. The bottom of the windows will start next to the top of the hood and will curve upward, following the shape of the top of the car. Once the curve reaches the middle of where the top of the car is, stop and bring the line straight down until it's parallel with the starting point of the line. Then, draw a straight line going left to connect it all back to the starting point. This shape will resemble a triangle, with one of the sides having a curved line and the other two having straight lines.
For the second window, you are going to create a window that's merely a reflection of that shape. The starting point will be parallel with the bottom-right corner of the first window. Draw a line going straight up until it's parallel with the top right corner of the first window. Create a curved line going down and to the right until the line becomes parallel to the starting point of the window. Draw a straight line to the left until it connects to the starting point and it completes the shape of a triangle with one curved line and two straight lines.
Step 3 – The Wheels
For this design, you'll only end up seeing one side of the car since it's a 2D drawing. So, when adding the wheels, you'll only need to add two: the front and back. Draw one circle underneath the hood of the car that's large enough to go above and below the original rectangle shape you drew in step 1. Draw a smaller circle in the middle of the first circle you drew to make the rim of the tire.
Draw a circle the same size as the first circle you drew but towards the back end of the car, below the window. Draw a small circle in the middle of that circle as well, just like the first tire you drew.
Step 4 – Door Handle
You're now going to give your car a handle for your driver's side door. Draw a small rectangle right underneath your front, driver-side window. This rectangle will be the door handle, so now you can get in and out!
Step 5 – Make Your Car Your Own
Now that the outline work is complete, you're going to design the car however you'd like so that the car is personal to you and your child. Anyone can draw a car, but not everyone ends up with the same result once they begin to add details and decorate it the way they like.
How would you like to color it in? Does your child just want to add one solid color, like most cars they see driving around today? Let them know they don't have to choose just one color! Encourage your kids to get creative with their designs and think outside the box. There are tons of patterns and textures they can draw on their car to make it their own unique creation!
There are so many different ways to personalize your car and make them unique to you. What details will you all choose to add to really make it shine? However you and your children would like to create your car, have fun with it and watch their imaginations come to life! At the very least, we hope, tthese few ideas are able to spark your creativity.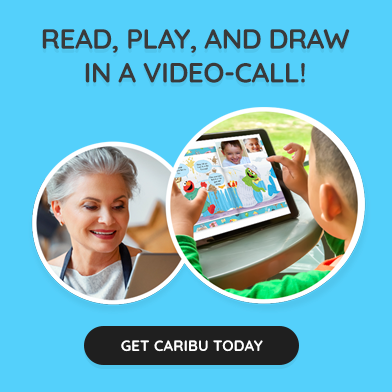 Don't Stop The Fun Here
We hope this drawing activity was easy enough and brought joy and laughter to you and your kiddos! If they enjoyed drawing their cars, or are now interested in all things car-related, there are plenty of other fun games and books that your children will love!
This is just one of many fun activities you can do with your family. Caribu has thousands of fun activities to choose from such as ebooks, games, drawing activities, and more! While you're here, you can also discover all the car-related activities that Caribu has to offer. These are great for parents to do with their kids and a wonderful bonding activity between grandparents and grandchildren too.
If you're a parent, are you wondering what special gift to help your little ones create for their grandparents? Gift a personalized drawing like the one you made today or get some inspiration here! They will love the thought and creativity that was put into it, but the fact that it came from their grandkid is usually enough to warm a few hearts. Do their grandparents love quality time more than gifts? Caribu offers many different options that will allow family members to spend fun, quality time with the special kids in their lives.
From video-calls to multiple-player games, group coloring games, and just about every children's book you could think of, Caribu is a great tool that combines education with quality bonding time. You don't need to worry about running out of activities to do together, as there are thousands of options at your fingertips. Download Caribu and let the fun begin!
Sources:
10 Fun & Interesting Facts About Cars | The Auto Doc
Craziest Fun Facts About Cars | Wrench
102 Interesting Facts About Cars That You Should Know | The Fact File