If there is one symbol iconic to Christmas, it's the Christmas tree. The use of an evergreen tree as a symbol of Christmas goes back about 1,000 years, and it's thought that many were actually hung upside down from the roof, much like a chandelier, rather than upright in a stand.
If you and your family are celebrating Christmas this year, we have gathered some super fun activities for you and your little ones to do during the holiday season. First, check out our easy tutorial on how to draw a Christmas tree. Once you're finished, you can search for some of our other favorite Christmas activities on the Caribu app!
How To Draw A Christmas Tree
The Christmas tree tradition may have started 1,000 years ago, but the evergreen tree has been used since ancient Roman times during their winter festival. With such a long history, it's no wonder the evergreen tree is loved by so many.
If your little one is looking to draw a Christmas tree, you're in luck! We have an easy tutorial that can be used by even the most novice drawers. As long as you can draw a few basic shapes, you'll be able to draw this Christmas tree!
Before we begin, let your little one video-call their aunt so she can draw along with them! First, have them pull up a blank drawing sheet so they can both see what the other one is drawing on the screen.
Step 1 – Tree
The first step is to draw the basic shape of the tree. To make the tree, all you need to do is draw three overlapping triangles of different sizes. Starting from the top, draw the smallest of your three triangles. Next, draw the next triangle slightly wider, and overlap the top point on the first triangle. Finally, the last triangle should be the biggest one yet and overlap the middle triangle.
These three triangles should create the shape of the Christmas tree. Later, we'll either color your tree in or erase those overlapping lines, so you don't see the triangles you made and are left with only the tree.
Step 2 – Trunk
Next, you'll need to draw the trunk of the tree. For the trunk, simply draw a thin vertical rectangle underneath the tree at the center. Your trunk can be as short or tall as you want it to be.
Step 3 – Star
The next step is to draw your tree topper. You can top your tree with anything you would like, but for this guide, we've chosen a star. Draw your star at the top of the tree. You can draw a star with any number of points you would like, but we like to draw ours with five points. We use the star drawing trick where you go back and forth between the points, never lifting your finger, and then we just color it in to hide the extra lines later.
Step 4 – Color
Now it's time to color in your tree, star, and trunk. Coloring in your tree before you decorate makes it a little easier to color in the end. A traditional tree would be green, with a yellow star, and brown trunk. However, there are no limits to your creativity, so if you want a pink tree with a blue star and a purple trunk, go right ahead! This is your creation, after all.
In this step, you can also choose to erase the extra lines and leave your tree white. If you choose this option, erase the lines in your star, and erase the lines that overlap in your tree as well. You should be left with a perfectly shaped tree!
Step 5 – Decorate
The final step is to decorate! You can add lights, ornaments, candy canes, and ribbons. When you're decorating your Christmas tree, the sky's the limit!
When you're finished with your Christmas tree, you can create a scene around it. Is it outside in the snow? Perhaps it's inside with presents underneath? Wherever it is, your Christmas tree will be the perfect centerpiece for any Christmas scene.
What Are Other Christmas Activities On Caribu?
Drawing a Christmas tree isn't the only Christmas activity you can do on Caribu. We have all sorts of entertaining Christmas activities that will help get you in the holiday spirit! If you live far from your family, you can help your little one schedule time with their loved ones to video-call and celebrate the season by participating in one of the following activities.
Easy To Make Christmas Crafts
During the Christmas season, there are many checklists being made, and one is for your gift list. Instead of stressing over finding everyone the perfect gift at the store, why not give a handmade gift from your little one?
In the book Easy-to-Make Christmas Crafts for Kids, Kim Mitzo Thompson and Karen Mitzo Hilderbrand have given you pages of fun crafts to make with your kids. With super-easy instructions, you'll be sure to find a craft that's perfect for everyone on your gift list. You can even make a couple of tasty treats while you're at it, like the donut snowman and the reindeer cookies!
Read Christmas Books
One activity everyone loves this time of year is reading Christmas-inspired books. Caribu has tons of books that will help get you in a festive, Christmas spirit. You can find your books with your favorite characters from Sesame Street, ride the chilly rails with Thomas, or dance along to the Nutcracker with Barbie.
Whether you're on a video-call with family, or you choose a book on Caribu for a bedtime story, your little one will love all of the cute Christmas stories leading up to the big day.
Spot The Difference
If your little one loves our spot the different worksheets, there are Christmas-inspired ones as well. For your littlest kids, there are Sesame Street pages with Elmo and Cookie Monster where they can find two or three differences. For the older kids, look for the "Spot the Difference – Christmas Tree and Snowman" sheet. In this one, you'll need to find eight differences!
If I Were An Elf Worksheet
If you're looking for an activity where you can really get your little one to use their imagination, look for the "If I Were an Elf" worksheet. On this worksheet, they can make up their own elf name and decide what elf job they would have.
Then, they can talk about what they're good at and what they need to learn and practice. Finally, they can write three things that are awesome about them!
Counting Snow Globe
Another fun activity on our list is the "Counting Snow Globe." You and your little one can search for all of the different items in the snow globe and count how many of each there are. This worksheet is super festive. You can find stockings, Christmas trees, candy cane, and more. Once you're finished with this worksheet, you'll certainly be in the Christmas spirit!
Christmas Maze
You can also find Christmas-themed mazes on the Caribu app. For the littlest ones of the group, there is a maze to help Elmo find his friend Zoe in the snow. There is another maze that's a little advanced. In this maze, they'll have to help Gerald the Giraffe find his way to the tree to place his gift under it.
Coloring Sheets
Finally, there are a bunch of holiday-themed coloring sheets for your little one to choose from. Coloring anytime is a great way to pass the time, but especially during the holidays. With the joy of the holidays can come a bit of stress, even for our little ones. Seeing family they don't really know, opening gifts in the spotlight, and lots of running here and there can be overwhelming for anyone! Luckily, coloring can help reduce stress and anxiety.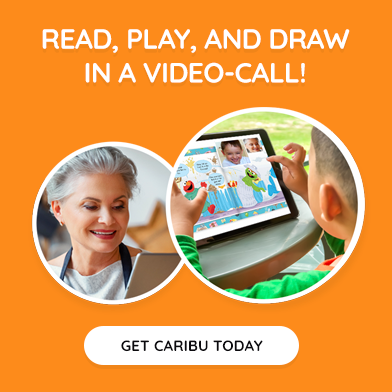 Conclusion
Now that your little one has learned an easy way to draw a Christmas tree, they can make their own Christmas tree cards this year! If you're looking for some fun, festive activities during the holiday season this year, make sure to check out all of the activities Caribu has to offer!
Whether you can be with your family for the holidays this year or not, Caribu can help you and your family stay connected through video-calls and holiday activities the whole family will love!
Sources:
How did evergreen trees become a symbol for Christmas? | MSU Extension
Christmas Tree Traditions – Christmas Trees and More | University of Illinois Extension