There are different types of grandparents, just like there are different types of gifts. Some are more traditional, and some are super techy. When it comes to the best gifts of 2022, we're breaking out the super fun tech gifts, subscription-based gifts, and the "didn't know you needed it" gifts.
If you're trying to find a gift for the grandparents in your family, and they're into technology, or they love the convenience of subscription boxes, this is the perfect list for you. Here are the 16 best gifts for grandparents in 2022!
1. Smart Watch
Watches are no longer simply for telling time. Now, there are watches that can text, make phone calls, track your steps (try and hit those 10,000 steps!), and some even alert 9-1-1 if it detects a medical emergency.
If the grandparents in your family are active, love technology, and enjoy wearing a watch, this may be the perfect gift for them! You can even pick out a fun watch band that fits their style.
2. Digital Photo And Video Archiving Package
Every grandparent has boxes of old pictures and videos. There's a strong possibility those videos contain some pretty embarrassing content of you as a kid, and that must be protected!
Your kids will love looking back at those videos and pictures. To protect the memories of the family, give the grandparents a digital photo and video archiving package. There are different companies that take the hard copies of all of the photos and videos and convert them into digital files.
3. Tablet
If the grandparents in your family haven't tried a tablet yet, it may be time to give them one. There are many different levels and price points of tablets, so pick one that fits their needs. In 2022, many grandparents and grandkids are still connecting through video-calls. If this sounds like your family, a tablet is a perfect gift for grandparents. Now they won't have to use their small phone for your next Caribu call!
4. Caribu Subscription
Over the past couple of years, the way we connect with our loved ones has changed dramatically. One major change is the use of video-calls. Luckily, this technology has helped grandparents, in particular, feel less lonely and isolated during these times.
If you are looking for a gift in 2022, a Caribu subscription is perfect! Caribu gives grandparents and grandkids a more engaging video-call experience. They can read books, challenge each other to a game of memory, solve a word search, and color together, all while on a video-call!
5. Digital Frame
Grandparents love cute pictures of their grandkids! Why not take a framed picture up a notch and give the grandparents a digital frame the next time you are looking for a gift for them? A digital frame looks like a traditional frame, but every few seconds a new picture comes up on the screen. You can set it up with some of their favorite pictures, and they can always change or add more pictures over time.
6. Robot Vacuum
A robot vacuum is the gift that keeps on giving… or cleaning! Grandparents have worked hard all their lives, and this gift may help make keeping up their home a little easier. It also gives them more time to do the things they love, like spending time with their family! Instead of vacuuming, they could have a Caribu video-call with their grandkid and play a game with them.
7. Smart Speaker
Smart speakers are a thing of the future, and the future is here! Smart speakers are more than just something to play music on. Grandparents can ask questions, like "what is the temperature for today?" or "how do you make the perfect chocolate chip cookie?" If they want, they can also use it to control lights, home temperature, and even the locks to their home, with the right connecting devices. This gift is a gift of convenience and will definitely make their lives easier!
8. Food Subscription
Whether your grandparents in your life love or hate cooking, they'll be obsessed with food subscriptions. You can gift them a certain amount of weeks to have these boxes delivered to their home. The boxes usually include recipe cards and all of the ingredients they'll need to cook those recipes, minus a few staple items like oil, salt, and pepper. They may even add some of their new favorites to their weekly meal lineup!
9. Portable Streaming Device
If the grandparents in your life have a TV that's not quite "smart," a portable streaming device is an awesome gift for them! A shift in content viewing is happening, with people watching their phones and tablets more than the TV, although this isn't true for people over 65.
They still prefer to watch TV. A portable streaming device plugs into the tv, and streaming apps can be accessed. Now, the next time the grandkids have a sleepover at their house, they can have a movie night without even leaving the house!
10. Personal DNA Testing
A family's story has only been able to be told as it gets passed down through the generations. Now, with the help of personal genetic testing, anyone can find out about their heritage and even find relatives they never knew they had!
This is an amazing gift for grandparents, especially if they've been working on their family tree. Of course, the amazing family stories will always be important, but they may just find a missing piece of the tree.
On their next Caribu call with their grandchild, they can tell them some of the stories and show them where their family is from. They may even find a book on Caribu about their culture or the place they are from!
11. Wireless Earbuds
Wires are so 2021. Wireless earbuds are the perfect gift for grandparents. They can use them on their daily walks to listen to music or a podcast. They can even use them as they run their errands in stores.
The next time they're talking to their grandkids on Caribu, they can use them to hear more clearly. And, the microphone on the earbuds will pick up the silly songs they're singing together!
12. Charging Station
If the grandparents are already super techy and have all the devices they need, a charging station is a practical gift for them. These stations are a one-stop-shop for all of their charging needs.
There's a spot for everything. As long as they put their devices on the charging station, they'll know they'll be charged for the next time they want to use them. They also make wireless charging stations that are even easier to use! They just set their devices on the stations and the charging begins.
13. Portable Battery
For the grandparents on the go, a portable battery may be a perfect gift. They'll no longer have to worry about their phone dying as long as they have their portable battery with them (and it's also charged…). With this gift, the next time your little one wants to have an impromptu Caribu video-call their grandparents, they'll know their phone or tablet will be charged no matter what!
14. Portable Speaker
Portable speakers are a thoughtful gift for the music-loving grandparents in your life. If they love listening to music when they're gardening outside, chatting with friends on the patio, or even lounging at the beach, a portable speaker is great for them. Portable speakers are easily connected to the Bluetooth on their phone, which is how they would control the music.
15. Heated Mug
For the grandparent that has everything but a hot cup of coffee, they need a heated mug. Whether it takes them 15 minutes or 4 hours to finish their cup of coffee, it'll stay nice and hot in a heated mug. We know what a luxury a hot cup of coffee is!
16. Subscription Boxes
Items being delivered right to your door, what could be more 2022 than that? There are subscription boxes for basically anything!
There are boxes for fashion, flowers, skincare, boxes with barbeque rubs and sauces, socks, and books. You can find a subscription box to fit anyone's interests. The best part, depending on the number of boxes you choose, they will continue to get gifts throughout the year!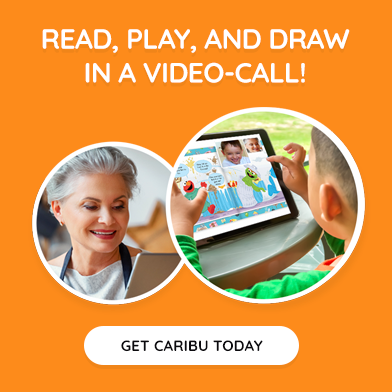 Conclusion
Grandparents can be tricky to buy gifts for! With our list of 16 of the best grandparent gifts for 2022, you're sure to find the perfect gift for them. Whether they love technology, crave a hot cup of coffee, or love surprise items being delivered to their door, this list is for them.
At Caribu, we believe the greatest gift is spending time with the people you love! We strive to help you give the gift of memories and fun with your entire family!
Sources:
How many steps/day are enough? for adults | NCBI
Study by Professor Finds Video Chat Helps Grandparents Maintain Relationships with Grandchildren, Diminishes Feelings of Isolation | Georgetown College | Georgetown University
Television, computer, and portable display device use by people with central vision impairment | NCBI