By Beth S. Pollak
Hispanic Heritage month (September 15-October 15) is here, and Caribu is kicking it off by featuring author Naibe Reynoso's books: Be Bold! Be Brave!/¡Sé Audáz, Sé Valiente! and Fearless Trailblazers/Pioneros Audaces. Each book highlights the stories of 11 Latino/Latina men and women who have made significant contributions to the world, some of whom have been given scant attention in mainstream U.S. media.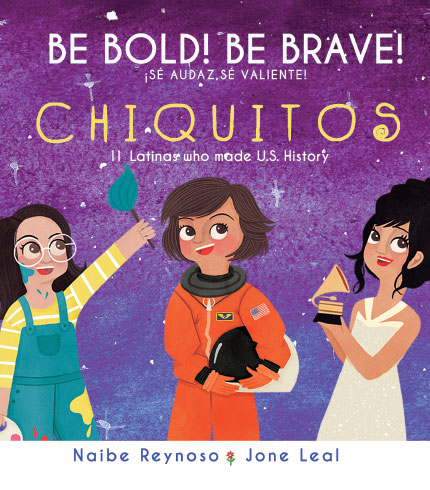 Be Bold! Be Brave!/¡Sé Audáz, Sé Valiente! also has a Chiquitos edition for younger children available in the Caribu app. Read and rhyme about these important leaders with your loved ones in a Caribu video-call to learn more about Hispanic Heritage in the United States. Enjoy the fascinating profiles and bright portraits of each person as you turn the pages together.
Reynoso is a multi-Emmy award winning journalist, producer, and host who launched her own publishing company, Con Todo Press, when she decided to write children's books. Reynoso, who is Mexican-American, was born and raised in the Los Angeles area, and lives there today with her husband and children. We caught up with her to speak to her about the books and what motivated her to write.
What encouraged you to start writing children's books?
I've been a journalist for more than 25 years. I've always loved writing and had a passion for specifically highlighting my community. There hasn't been a lot of coverage about my Latino community in the mainstream media, especially positive stories that highlight our leaders and heroes.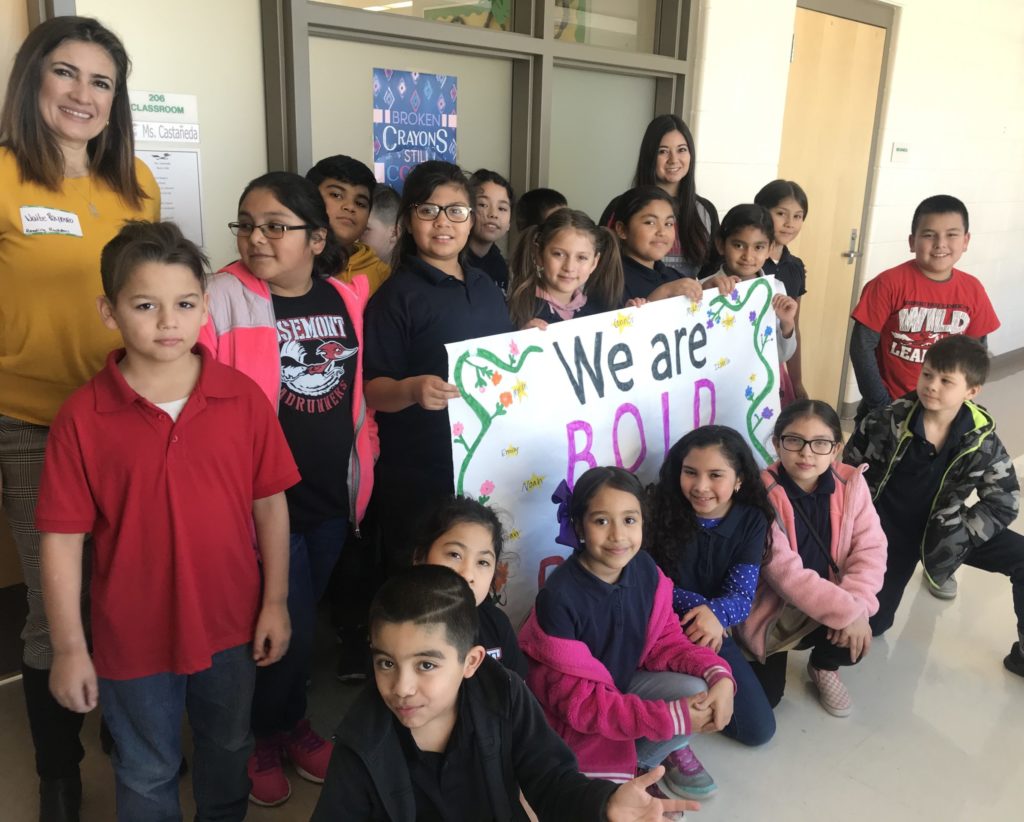 About five years ago, when I started hearing negative things about the Latino community in the presidential campaign, and specifically towards the Mexican community, it really lit a fire under me to do something about it. At the time, (and to this day), my son was really into biographies. As a proud Latina it made me sad to discover that there were not a lot, hardly any books about Latino leaders. The ones that did exist were only a few: Selena, Frida Kahlo, and César Chávez — leaders who deserve to be profiled, but there are many more. There are people who are inventors, people involved in politics, artists, leaders and trailblazers that children need to learn about. Not just Latino children, but everyone. The more we learn and know about each other, the more empathy we have for one another, the better communities we're going to create for our children, and the better global citizens we're going to be.
How did you decide which women to feature in your first book?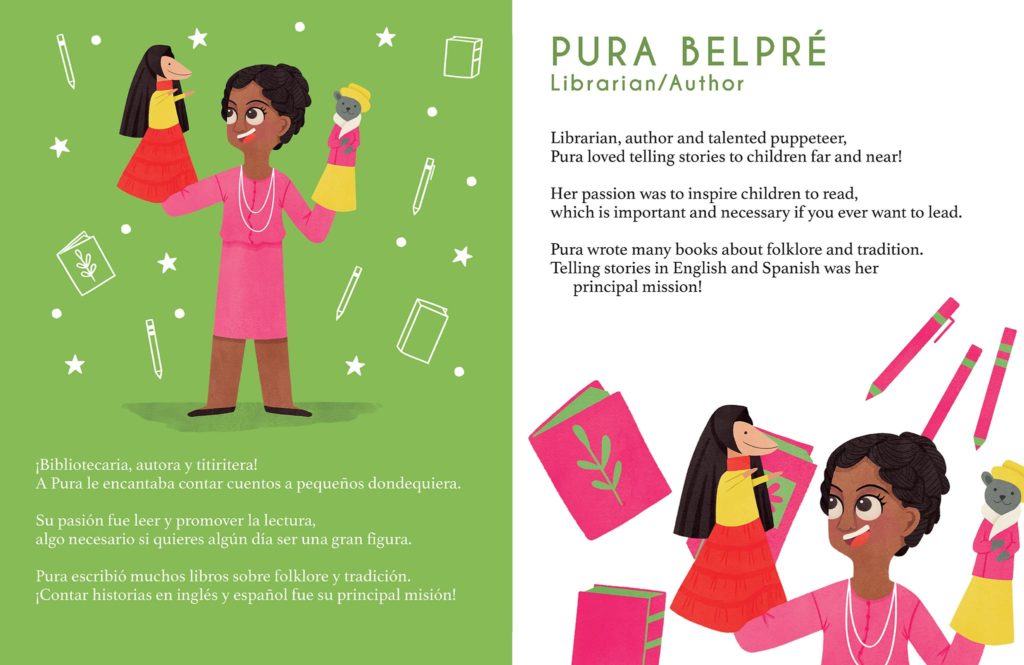 I wanted to pick eleven women that came from diverse fields. A lot of children at a young age have an inclination to their interests—sports, arts, debate, science—and that passion hasn't been developed. I wanted children to feel that whatever talent they have, they can be successful at it. Sometimes parents don't feel like the arts have value. They try to sway their kids into becoming doctors, scientists, or something more traditional. Yet we are all born with amazing gifts and we don't know how impactful they will be if they are not developed and nurtured. I wanted to create a book that featured a wide array of careers and people in politics, science, activism, the arts, and journalism. I was intentional in choosing people who represented those careers.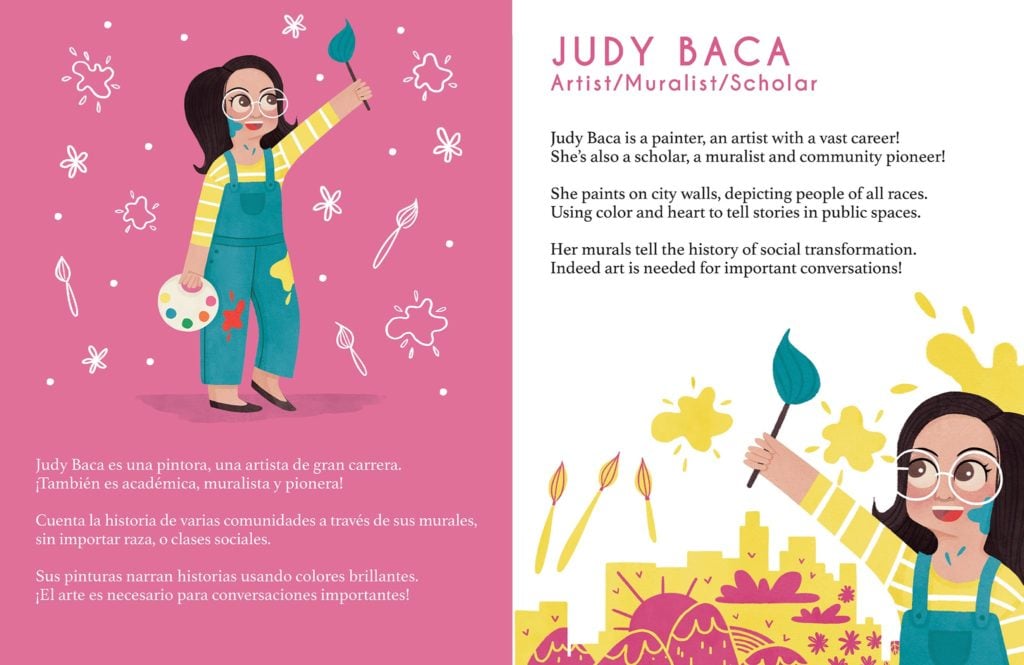 For example, Judy Baca is a Latina muralist and scholar in Los Angeles. She's a community pioneer and a scholar who taught at UCLA. Her murals often depict the hidden history about the trials and tribulations of communities of color. Cities have hired her to create these murals. Her contributions as an artist are important. So if there's a child who likes painting and art, I want them to feel that they can pursue it too, and it has value.
I also wanted to choose women who looked different. As Latinas, we have a mixture of races and history, and we all look different. We have light skin, dark skin, curly hair, and straight hair. There's not a monolith look that represents being Latina; all skin tones are represented.
What about your family's heritage?
My parents are from Mexico, from Zacatecas. They immigrated here when they were in their early 20s, got married, and had me and my sister. My dad started off as a farmworker and then gardener, and he had an entrepreneurial spirit. He opened a little Mexican restaurant and then a store. My mom started as a seamstress, and then when my dad opened his restaurant, she helped him with that and the market.
I remember my mom also studied to be a teacher's aide. She went to night school. When she went to apply for a job, the owner of the school wanted to give her minimum wage when she knew the other aids were getting more than that. She felt that because she had an accent, she would not be paid accordingly. She ended up concentrating on my dad's business. They are retired now. They worked really hard. L.A. was good for them—they built a community of friends and family.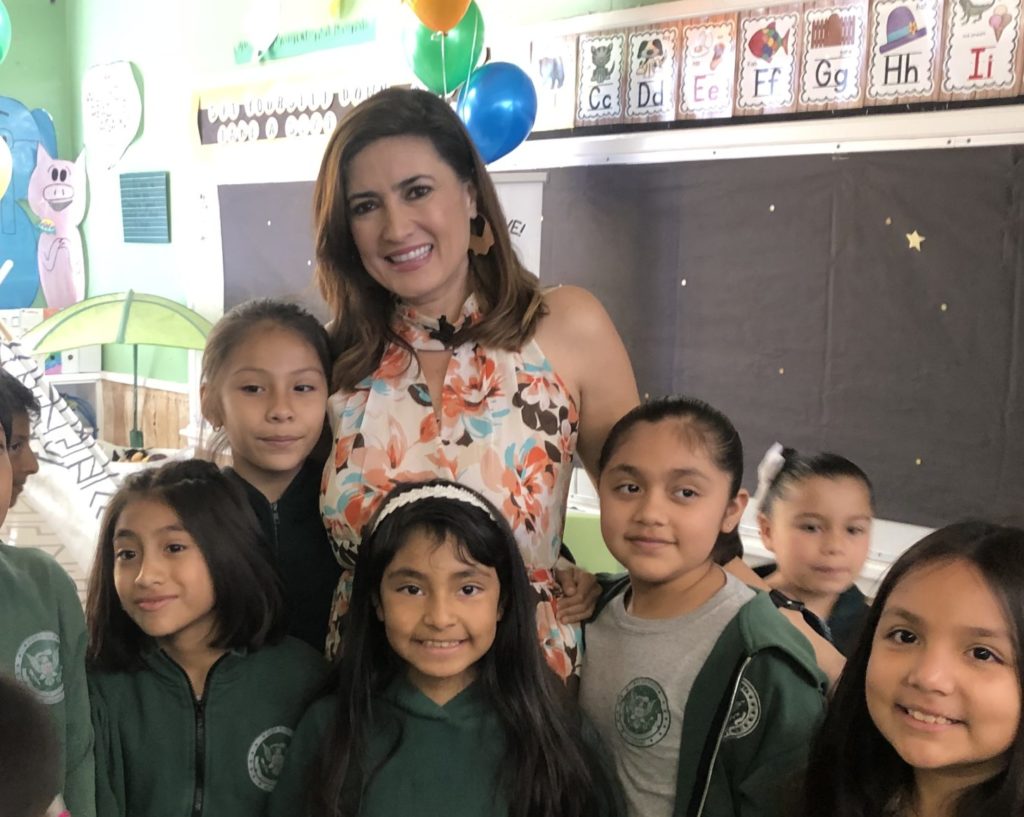 How did your life growing up in the Los Angeles area influence your ideas?
Living in LA and being encouraged by my teachers to embrace other cultures, languages and diverse communities made me really appreciate other communities and my own as well. Different cultures create beauty. You are exposed to so many different experiences and none of them are more or less than the other, they're just different. I think of it as the difference between seeing or eating one dish as opposed to having a bountiful plate of foods, tastes, and colors.
How can your books help combat negative stereotypes in our society?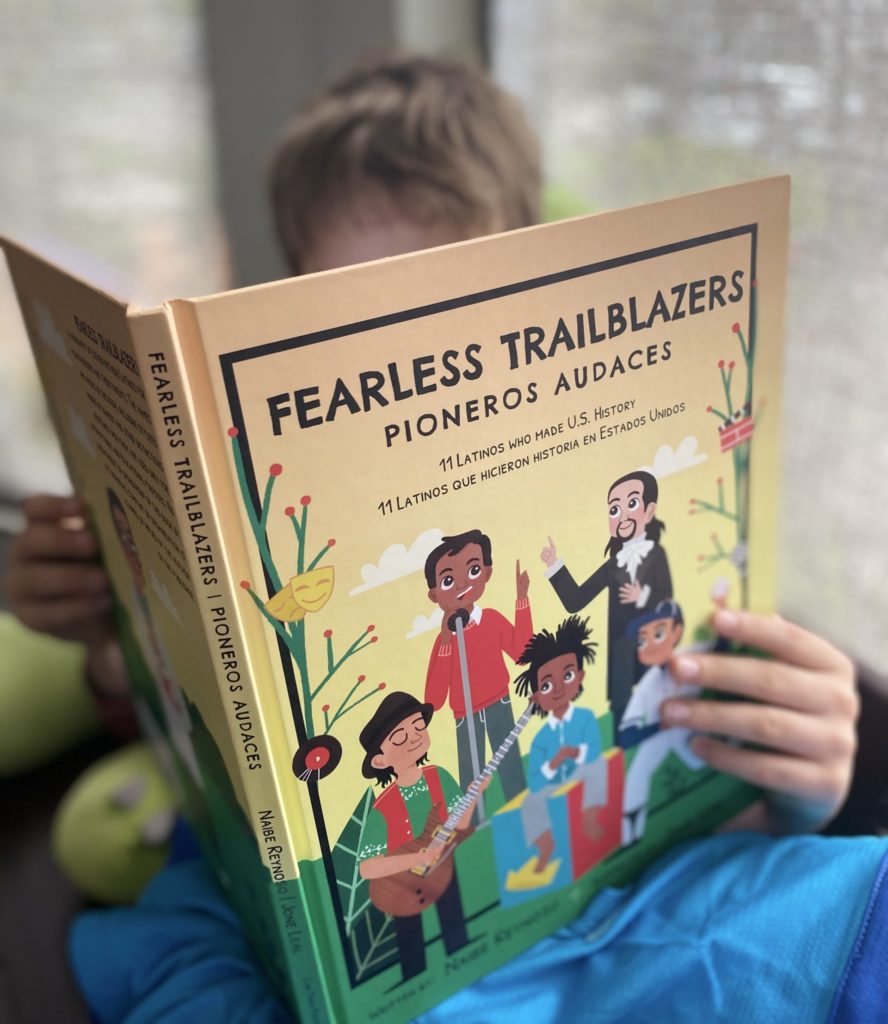 In this country, we still have a long way to go to embrace diversity, and learn about other communities. The root of racism is fear of the unknown. If you don't know other cultures and other races, you might fear them because you don't understand them. If you fight the unknown with knowledge—learning about others' experiences—that will be an antidote to the unknown, which will eliminate the fear, and which will allow communities to bridge that gap and come together as a unified community.
My books are valuable because children start creating concepts of who they are in society and who others are in society at the earliest age. Books are the first piece of media that kids are exposed to: they show kids ways that they fit into the world. My books give them a chance to have a dialogue about different communities.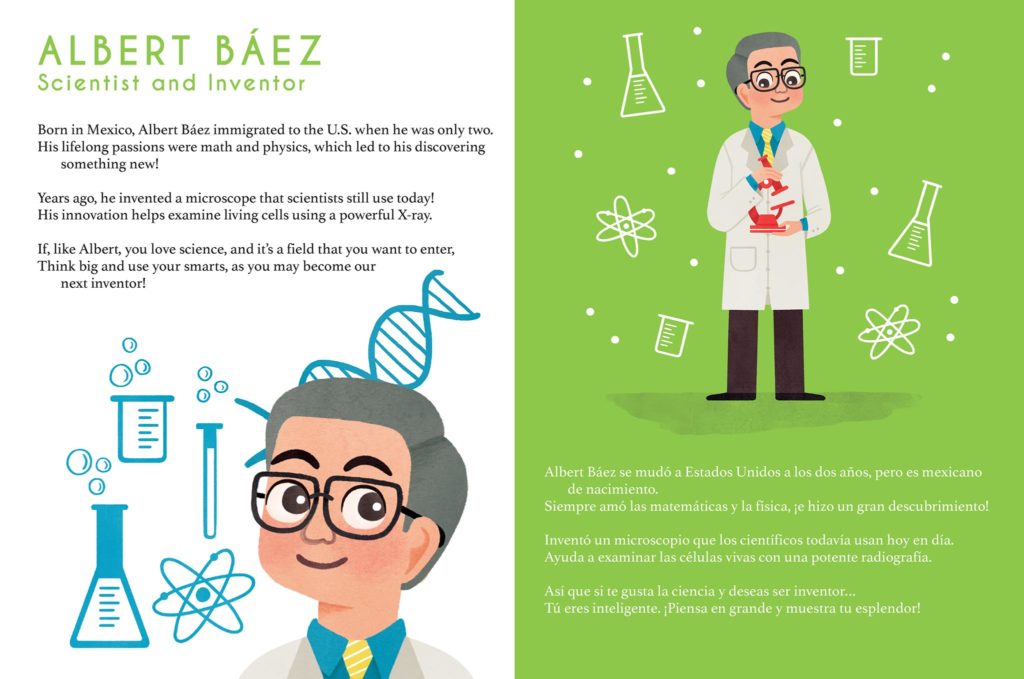 What made you decide to follow up with a book about Latino men?
A lot of times, men of color are vilified. I have a son. Boys of color need to feel accepted as well. Before they're men, they're little boys. They need to also see heroes that look like themselves. I wanted them to have the opportunity to see Latino heroes. Albert Baez who created a powerful microscope. Julián Castro who ran for president and wanted others to follow in his footsteps.
Why is it important to publish bilingual books?
Languages are beautiful and I compare them to instruments. The more instruments you know, the better a musician you are. Unfortunately, for many years, people were vilified for speaking Spanish, looked down upon, or teased. I wanted to make my books bilingual so children that are bilingual can embrace the language and feel proud of it. It can help bring bilingualism more to light, so kids can feel proud of their second language. There are readers who might be English Language Learners too, and bilingual books can help them cross-reference and learn both languages.
What are the benefits of making the books available on a platform like Caribu?
When you make a book available on a platform like Caribu, the book and the message is accessible to a wider audience. My books fit perfectly for connecting grandparents and grandchildren. I specifically wrote the books to be fully English/Spanish bilingual so they could be shared inter-generationally. For Latinos, sometimes our grandparents are only Spanish speakers. It's hard to find books that you can read to your grandchildren. It's a good opportunity for all of these multiple generations to share one book.
Another benefit is that we are in the age of devices now! With Caribu, you can have hundreds of books in one device, that can travel with you wherever you go.
How do you emphasize the message in your books?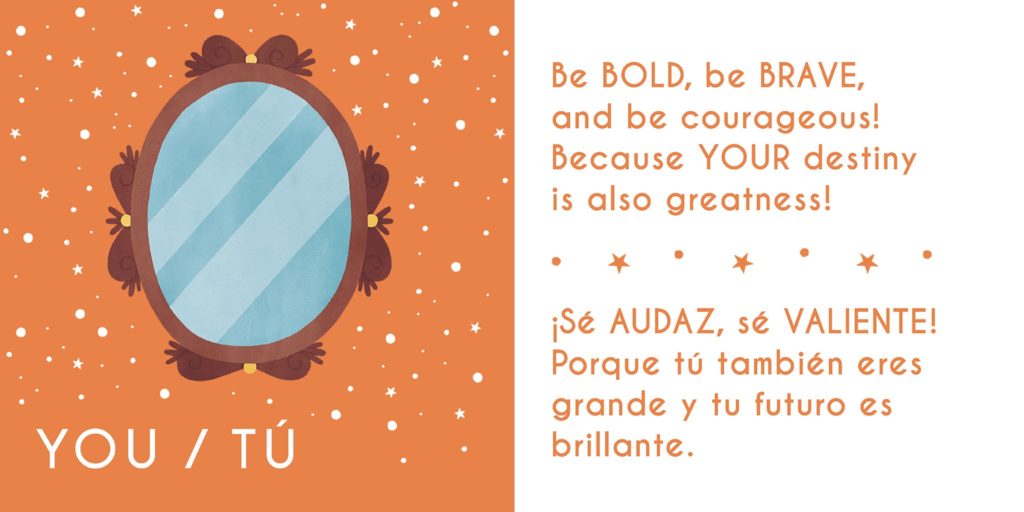 Each of the books has a mirror at the end. It's a feel-good ending so that when kids finish reading the book, they're left with a call to action: to dream big, be bold, and be courageous. Because their destiny is also greatness.
I highlighted people that have accomplished amazing things. I didn't want children to feel intimidated by those stories. I didn't want them to think, 'How am I going to make this happen?' I wanted to make sure that I let the children know that the ability to make a difference in the world is inside of them.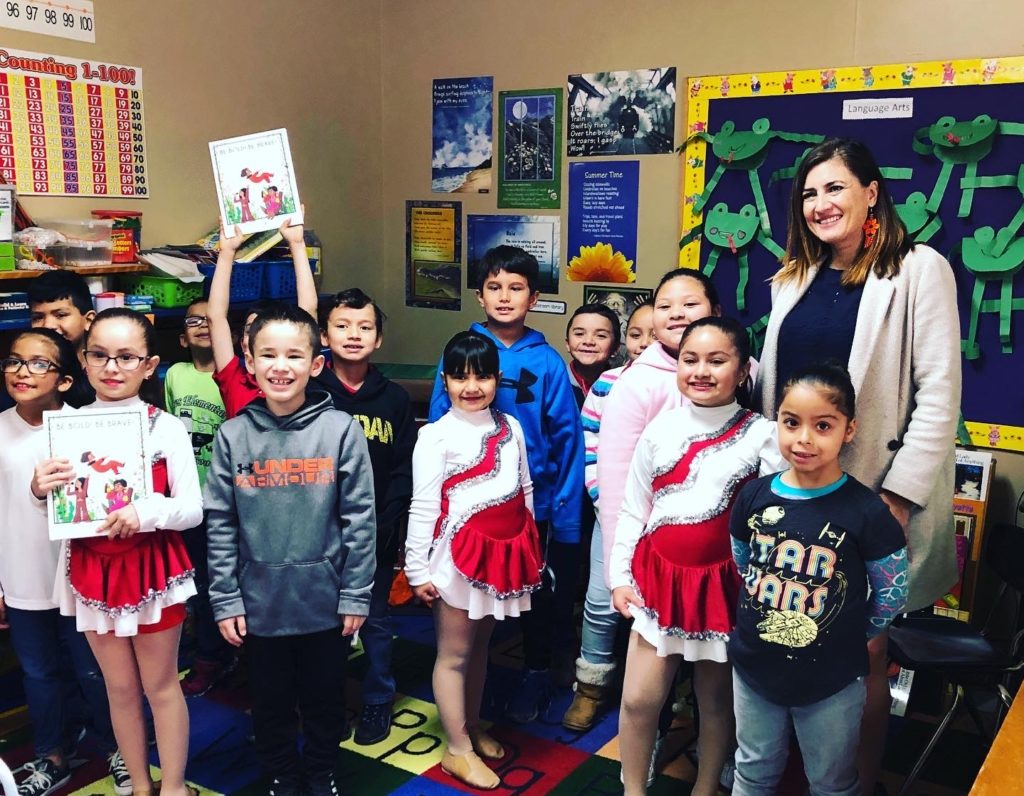 You can change the world and make a difference if you have the bravery and courage to show your talents with the world. All of these men and women started as a little boy or a little girl with big dreams because they believed in themselves. And because they kept pushing forward, they made amazing things happen. I wanted kids to be able to see the greatness within themselves.
---
Reynoso's next book, How To Fold A Taco/Cómo Doblar Un Taco, will be released in October. You can read all of Reynoso's books in the 'Hispanic Heritage Month' category of the Caribu app.
---
Beth S. Pollak is a writer and educator based in California. In addition to working with Caribu, she consults with educational organizations and EdTech companies. Beth has worked as a teacher and journalist in Chicago, New York, and San Francisco. She holds degrees in journalism, bilingual education, and educational leadership. In her free time, she enjoys hiking, biking, picnics, and dance.