By Beth S. Pollak
Vroom Vroom! Friday is Truck Day at #CampCaribu! We're featuring some fantastic books about trucks in our Summer Reading Challenge. Dump trumps, garbage trucks, fire trucks—which is your child's favorite? Invite a little one you love to bring their toy trucks to your next video call, and pick a book to read together in a virtual playdate. Also, try our trucks coloring pages!

For tractor lovers, try The Runaway Tractor and Tractor in Trouble by Heather Amery & Stephen Cartwright, and Why Do Tractors Have Such Big Tires? by Tg Tjornehof & Daniele Fabbri. Watch out for a dump truck's cargo in Bang! Clang! Big Dump Truck by Charlotte Gunnufson. Practice your transportation colors, numbers, and sounds with the I Learn With Transportation books by Sergio Alfonso. To learn about fire trucks and firefighting, try Barbie, You Can Be A FireFighter by Gabrielle Reyes.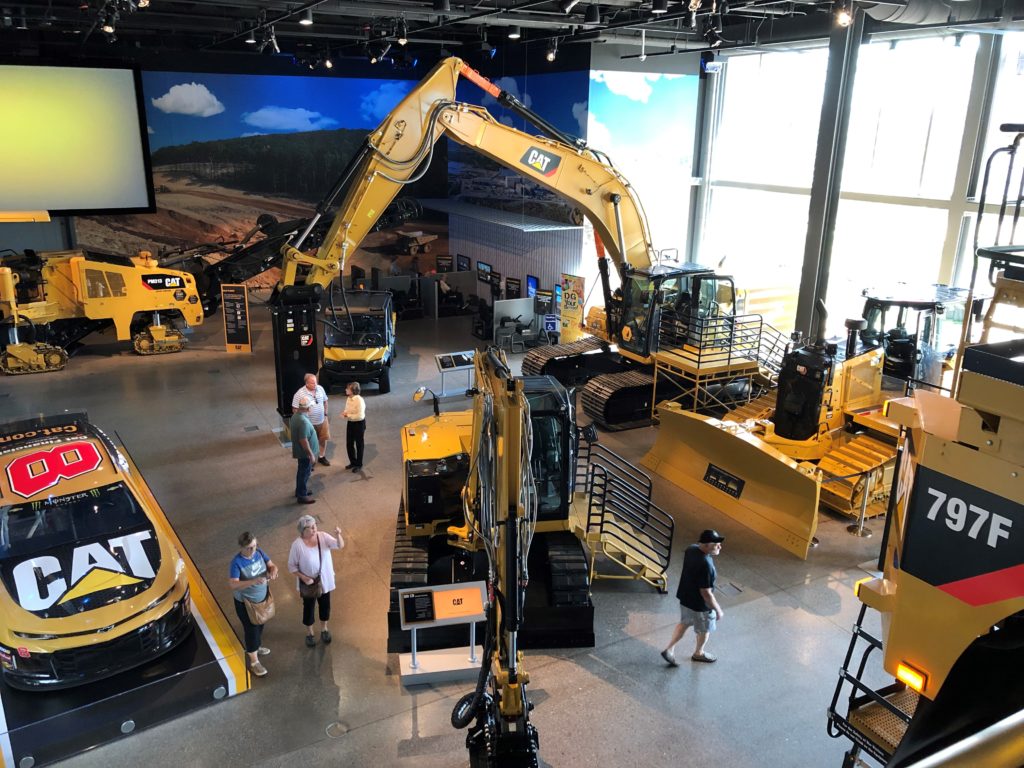 In honor of Truck Day, we reached out to the Caterpillar Visitors Center and Museum, in Peoria, Ill., to learn fun facts about heavy machines and big wheelers. The Visitors Center features hands-on exhibits with videos and images that detail the company's history and technology.
"At Caterpillar we focus on providing the very best machines to help our customers build a better world," said Manager Susan Morton. "Our galleries are designed to help celebrate the history behind our company, and provide hands-on spaces allowing kids to virtually design their own machines, see what it takes to engineer, manufacture and operate a Caterpillar product, and learn about the various industries Caterpillar is part of."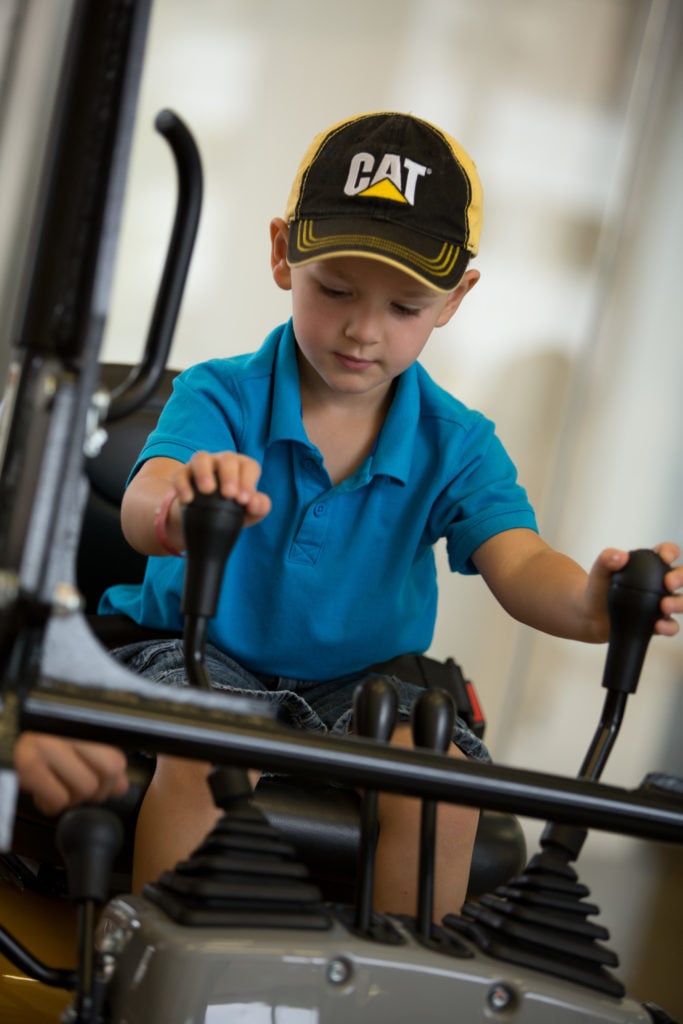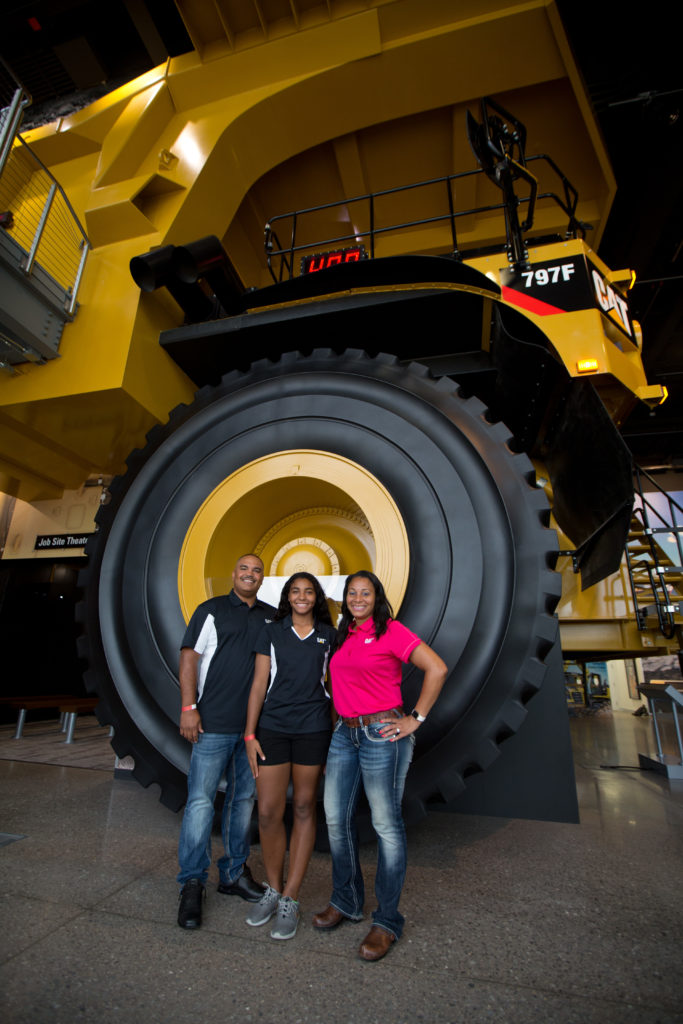 Since its founding, Caterpillar has become a machinery powerhouse, building trucks and technology for construction, mining, agriculture, paving, and more! Look around your neighborhood and you might see some Cat® forklifts, hydraulic shovels, pavers, drills, or pipelayers.
"One of the best features of the Caterpillar Visitors Center is that we switch out the machines on the exhibit floor every year – so it's always a new adventure for our guests," Morton said. "They are able to climb into the cabs of one of our iconic dozers, excavators or backhoes. It's so fun to watch the kids (and adults) pretend they are really operating these machines. Then they can head over to the simulators to test their skills."
The Creation Of Caterpillar
Caterpillar as a company was launched in 1925 when Benjamin Holt and C.L. Best merged their tractor-making businesses. Holt had created the first combine harvester in 1886, followed by a steam engine tractor in 1890. In 1904, Holt invented a gas-powered continuous-track tractor that became known as a 'caterpillar.' He had noticed that heavy steam tractors would sink into California's soggy peat soil, so he substituted the tractors' rear wheels with tracks. The first Holt tractor to be manufactured with the 'Caterpillar' name was released in 1909, and the name was trademarked in 1910.
C. L. Best had focused on early gasoline technology in his tractors. According to Caterpillar, "Best's revolutionary undercarriage design was so ahead of its time that some of the features remain part of today's Caterpillar tractor DNA."
During World War I, Holt focused his business on military contracts, while Best focused on domestic sales. After the war, it made sense for the two entrepreneurs to merge their businesses.
The Largest Mechanical Truck Of All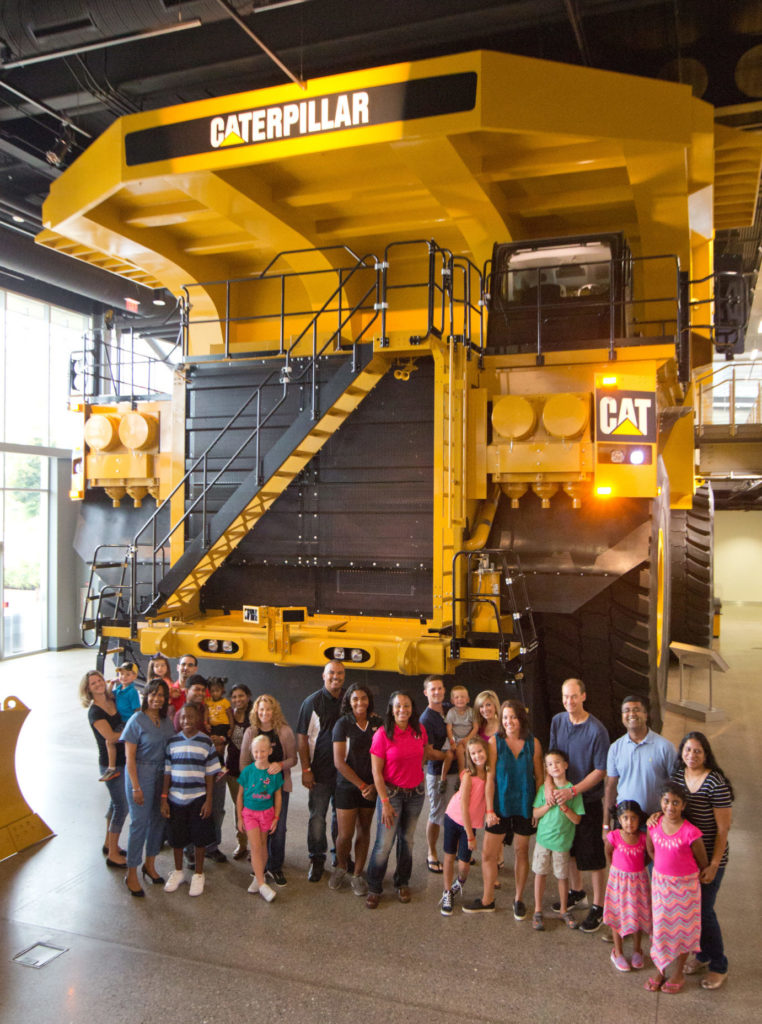 The centerpiece of the Caterpillar Visitors Center is the Cat® 797F Mining Truck.
"Standing two-and-a-half stories tall (five stories with the body fully raised!) with 13-foot tall tires, it is the world's largest mechanical truck, not to mention a favorite photo-opp," Morton said.
Currently, the center is temporarily closed to help prevent the spread of COVID-19. However, you can still visit on a virtual tour. The virtual tour includes a clickable walk- through of the center with video clips and information about the machinery and exhibits on display. You can also stay updated by checking the center's website and Facebook page, where you can see a time lapse of the Cat® 797F mining truck being built. Plus, the center's Education tab features dozens of resources and activities for every grade level hoping to learn more about engineering and technology.
---
You can find Caribu's Truck Books in the #Camp Caribu Summer Reading list as part of Transportation Week. Or, search the Transportation category in Caribu's in-app library. Download Caribu to get started, and connect with your loved ones in an virtual playdate.
---
Beth S. Pollak is a writer and educator based in California. In addition to working with Caribu, she consults with educational organizations and EdTech companies. Beth has worked as a teacher and journalist in Chicago, New York, and San Francisco. She holds degrees in journalism, bilingual education, and educational leadership. In her free time, she enjoys hiking, biking, picnics, and dance.