Photo: Barbara Bergwerf
By Beth S. Pollak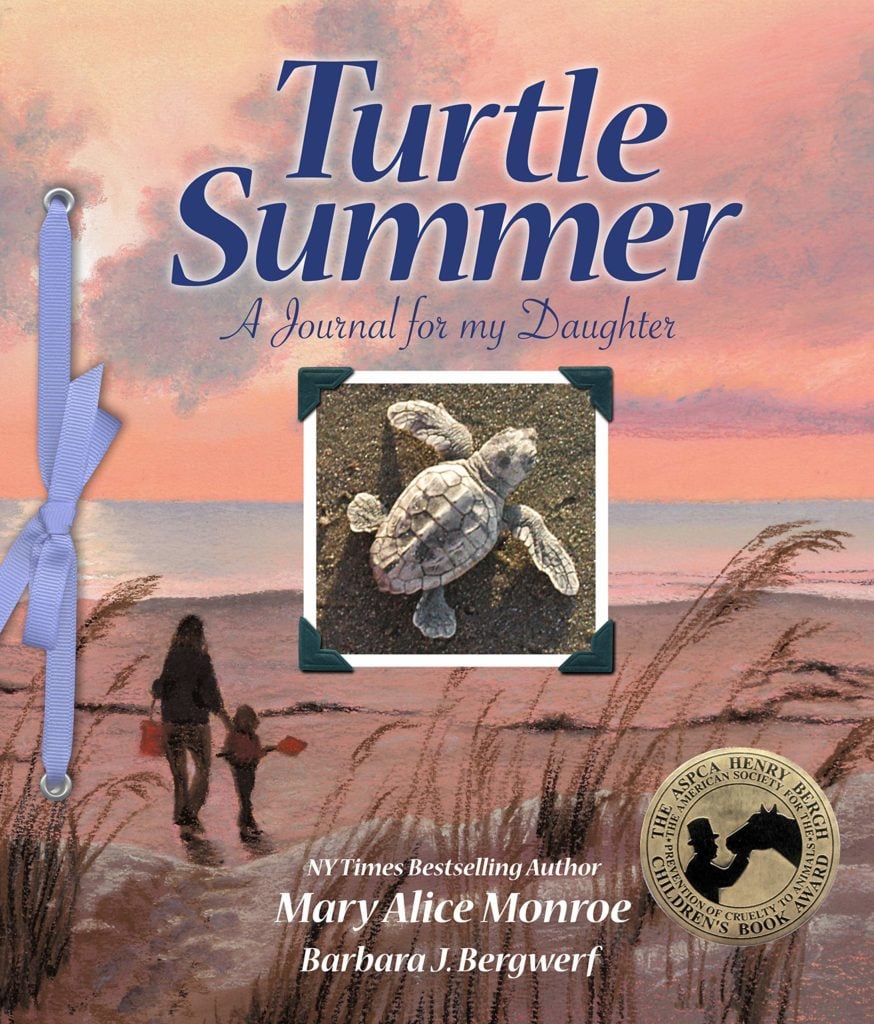 Did you know that sea turtles lay about 110 eggs per nest? And that they have been around since the dinosaur era?
If you've read the book Turtle Summer: A Journal for My Daughter, by Mary Alice Monroe and Barbara Bergwerf, you might have already begun to explore some of the impressive ways that sea turtles interact with their environment. The book is featured in the Caribu app as part of #CampCaribu's Week 6: 'Under The Sea.' It is a photographic journal of a scientist mom and her daughter who volunteer to monitor loggerhead sea turtle nesting and hatching on a South Carolina beach.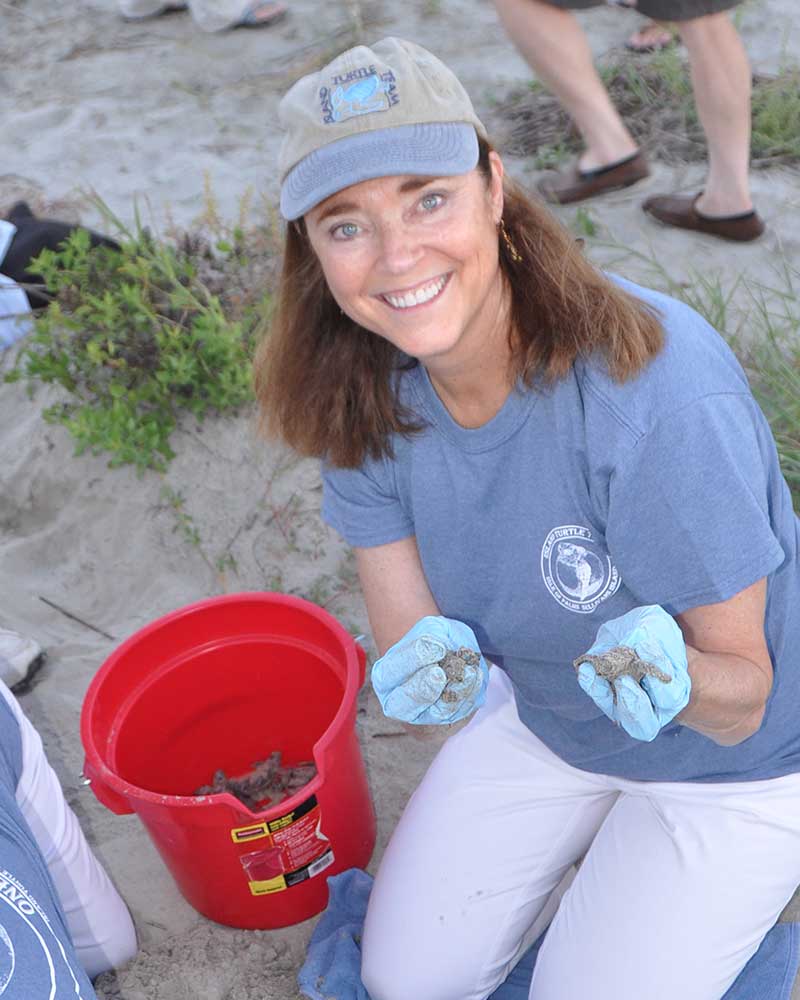 The book is a children's spin-off of Monroe's fictional novel Swimming Lessons, part of her Beach House series which is set on South Carolina's Isle of Palms. There, loggerhead conservation efforts are part of daily life. Every year, the turtles begin nesting in early May along the coast. After a two-month incubation period, the delicate hatchlings emerge from the sand and make their way out to sea.
Monroe and Bergwerf are active members in the Island's Turtle Team, which protects the loggerheads' beachfront nests and hatchlings. They also volunteer and support the South Carolina Aquarium's Sea Turtle Care CenterTM, which rescues, rehabilitates, and releases sick and injured turtles. Monroe shared some of her experiences with Caribu:
"Barb and I paired up to write Turtle Summer because children of all ages—mostly adults—were curious about what the turtle team did on the beach," she said. "We wanted to use photographs, not illustrations, because in a child's eye the photographs are 'real.' I wrote the story for a parent or grandparent to read to the children. Barbara's photos brilliantly portray our efforts."
Monroe's work with the turtles initially inspired some of her adult novels, and resonated with readers across the globe.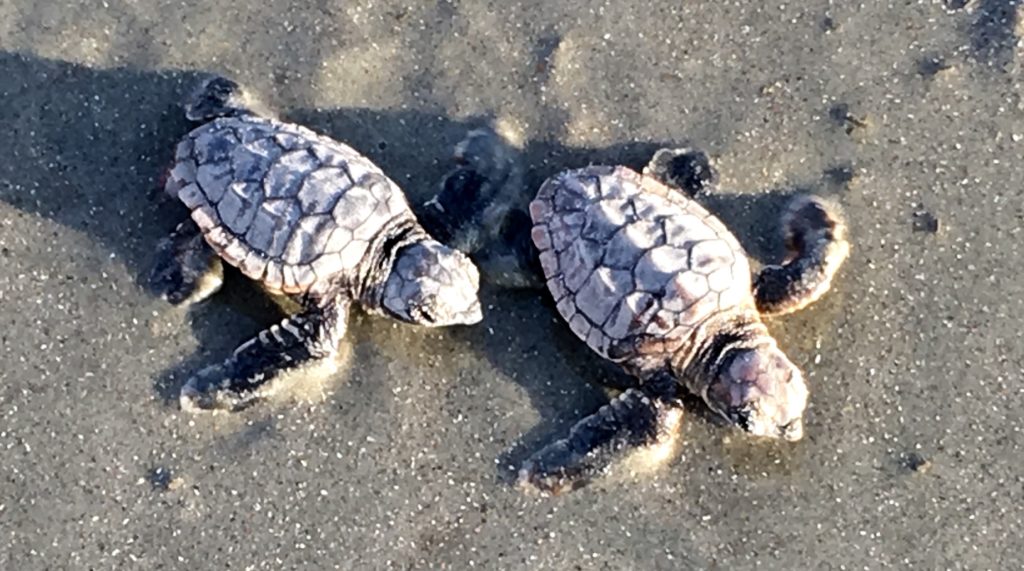 "I had written The Beach House a few years earlier and it was my first New York Times bestseller," she said. "I knew that the saga of the nesting cycle of the loggerheads, paired with a great story, would captivate the imagination of readers. And more; by bringing readers into my story world, allowing them to see the animals through the viewpoint of the characters—with their emotion—I could touch their hearts' hearts. I believe that if you care—you take care."
The Beach House encouraged many of Monroe's readers to support turtle conservation efforts.
"Sure enough, I received countless letters from people who had volunteered on turtle teams or donated because of The Beach House," she said. "Years later, when I witnessed the resilience of the sea turtles in rehabilitation, I wanted to write that theme into the sequel, Swimming Lessons. That novel portrays rather accurately the beginnings of the sea turtle hospital!"
Monroe says that when she began working with the team twenty years ago, she didn't realize it would become a life-long passion.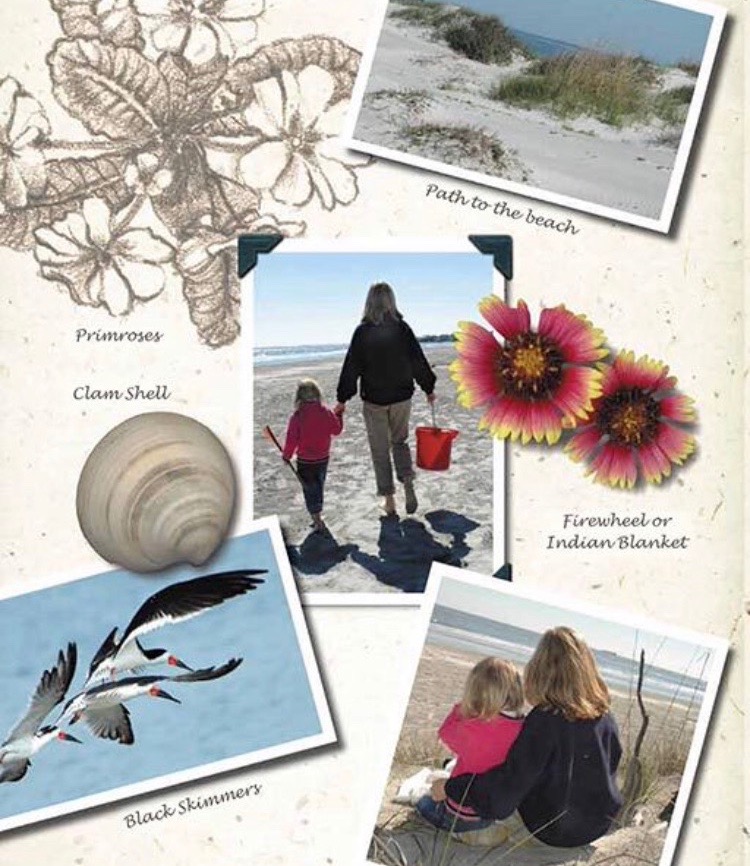 "I love those ancient mariners, those symbols of instinct and endurance," she said. "I love my team members because we are so much more than colleagues. We are friends."
To learn more about sea turtle conservation and what families can do to help, Caribu spoke to Kelly Thorvalson, the SC Aquarium's Conservation Programs Manager. Thorvalson was one of the founders of the Sea Turtle Care CenterTM, and she served as a mentor to Monroe and Bergwerf when they trained as volunteers. Plus, you can see her photo in Turtle Summer; she served as the model for the the 'mom/scientist' character!
How did you start working with sea turtle rehabilitation?
"Just after we opened in 2000, we were asked by the South Carolina Department of Natural Resources (SCDNR) to help with a sick loggerhead sea turtle from Beaufort. There was no rehabilitation facility for sea turtles in the state, and it could have been detrimental to transport it elsewhere. We knew we wanted to help, as these are a threatened species. My boss went out and got a kiddie pool to temporarily house the turtle until we could get a filtered tank ready—and the Sea Turtle Care Center™ was born. Ten years later, that turtle, 'Stinky,' was captured in the SCDNR inwater sea turtle survey. He was found to be a healthy, thriving, adult male sea turtle— proof that rehabilitation works!"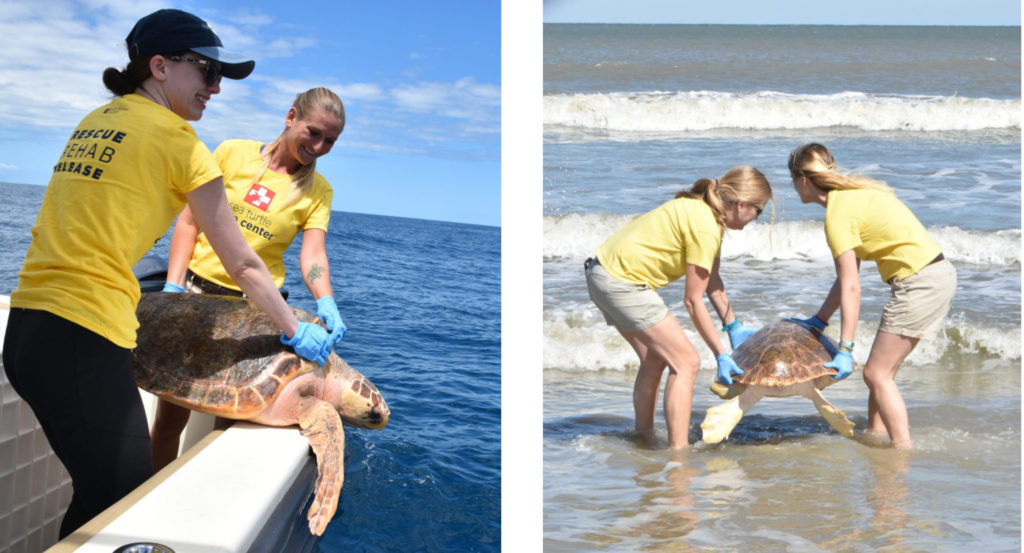 Above: SC Aquarium Staff release turtles after their rehabilitation at the Sea Turtle Care CenterTM. Photos: South Carolina Aquarium
How did you work with the authors when they wrote the book?
"Mary Alice is a passionate conservationist. Her books tell the story about animals or areas in need of attention to help educate people on environmental issues. She spent months volunteering in the Sea Turtle Hospital, helping to feed the turtles, observing animal care, and assisting with medical procedures, to understand the process correctly. She was meticulous about her research. We have remained good friends since that time. Barbara is an incredible wildlife photographer and sea turtle advocate. She and I worked together for almost 15 years and are also very close. Their efforts to protect the nests on the Isle of Palms are extraordinary."
What are some of your favorite parts of working with sea turtles and volunteers?
"Sea turtles are incredible animals, ancient and stoic, as tough as tanks but absolutely beautiful. Humans have caused their populations to decline over the years, so helping them is important to the species and the ecosystems in which they live. Only 1 in 1000 hatchlings survive to become an adult.
Then there are the people – turtle people have a kindred spirit. As a non-profit organization, the South Carolina Aquarium depends on volunteers to help — food prep, feeding, cleaning tanks, giving turtles vitamins and medicine, logging their diets, and taking meticulous notes on care. Being able to help these remarkable animals, watching them heal from devastating injuries and crawl back into the ocean, is a beautiful thing to be part of for staff and volunteers alike."

Above: A loggerhead returns to sea after laying its nest on the Isle of Palms. Photos: Barbara Bergwerf
What are the issues of greatest concern today with respect to sea turtle conservation in South Carolina, and across the globe?
"Boat strikes in South Carolina are the leading cause of local sea turtle injury and death. Anyone that's out boating — please keep an eye out! There are also entanglements in fishing gear and crab trap ropes, and turtles getting caught on recreational fishing lines.
Historically, the loss of nesting habitat from coastal development and commercial fisheries have been the biggest threats to sea turtle populations. Plastic pollution is a newer threat that is very concerning. We have seen an uptick with turtles coming in with plastics in their GI tracts. The South Carolina Aquarium recognized this, and in 2015, expanded our sea turtle conservation efforts to include working beyond our walls to mitigate plastic pollution.
Climate change also poses a great threat to sea turtles. As the sea rises with climate change, it erodes our beachfront, reducing critical nesting habitat and overwashing nests. The temperatures of nests are important. Incubation temperature determines the sex of the hatchlings; warmer sands result in more females and fewer males. If the sand is too hot, it could result in hatchlings that are less fit."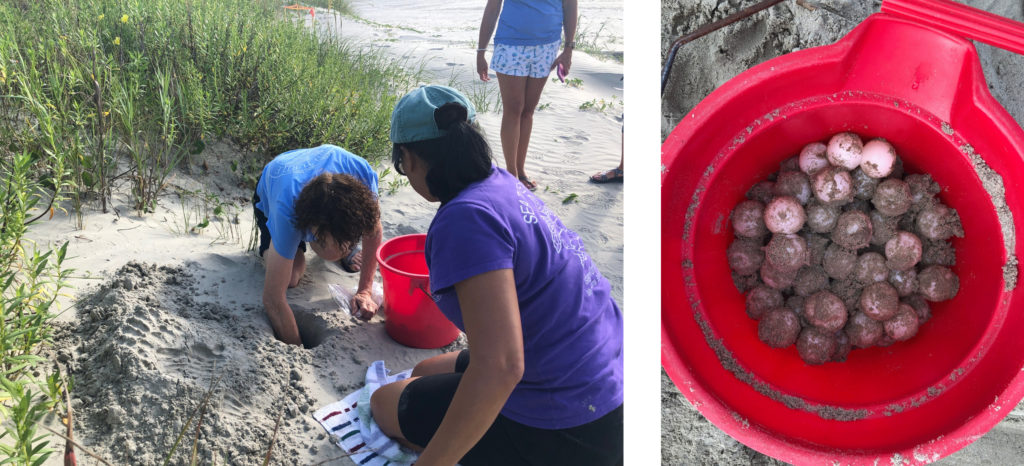 Above: Turtle Team Volunteers on the Isle of Palms relocate a turtle nest to move it to a safer location. Photos: Barbara Bergwerf
What can kids and families do about this?
"Everyone needs to leave beaches cleaner than they find them. It is startling how much trash can be left behind at the end of the day! Plus, when people dig holes on the beach, turtles and humans can be injured. All of the tents and chairs need to be packed away every night, and holes refilled.
No matter where you live, greatly reducing your use of single-use plastic is a must. Reducing your carbon footprint is also a critical aspect to saving sea turtles. We can hold ourselves and our elected leaders responsible for making good decisions that will help the environment. If a family or a community gets together and makes their voices heard, they can make substantial change. You can also learn more about turtles and support turtle conservation efforts with donations."
How is the SC Aquarium helping in the community?
"We have developed a SC Aquarium Citizen Science app to help communities environmental trends. The Litter-free Digital Journal, a project within the app allows us to understand the most problematic types of debris and work on business culture and legislation. We locate hot spots for litter, and drive conversations around solutions. Litter data has helped with many of the 19 single-use plastic bans in South Carolina.
We have also launched the Resilience Initiative for Coastal Education (RICE) to arm coastal communities with information about sea-level rise and how to protect themselves from it. We've created the Sea Rise app to show what 1-10 feet of sea level rise would look like in your community. Charleston has seen huge king tides over the last few years, and we are trying to document those as well as flooding from more frequent heavy rains.
Are sea turtles going to be able to keep up with what's happening? We don't know yet. We have to pull back on carbon emissions. We have to pull back on plastics that we're using. As much for sea turtles as it is for us; for our children and for our grandchildren."
---

You can find Turtle Summer featured in the Caribu app as part of #CampCaribu's Week 6: 'Under The Sea." Schedule a virtual playdate with a friend or relative to read more about sea turtle nesting behaviors and protecting coastal ecosystems. Download Caribu to find this and hundreds of other books and activities about your favorite animals and other topics! Join the #CampCaribu Summer Reading Challenge, and invite family members to read, draw, and play together in a video-call.
---
Beth S. Pollak is a writer and educator based in California. In addition to working with Caribu, she consults with educational organizations and EdTech companies. Beth has worked as a teacher and journalist in Chicago, New York, and San Francisco. She holds degrees in journalism, bilingual education, and educational leadership. In her free time, she enjoys hiking, biking, picnics, and dance.