Above: a veterinarian at The Marine Mammal Center in Sausalito, CA, examines harbor seal pup 'Paws' during the animal's rehabilitation at the hospital. Photo: Sarah van Schagen © The Marine Mammal Center
By Beth S. Pollak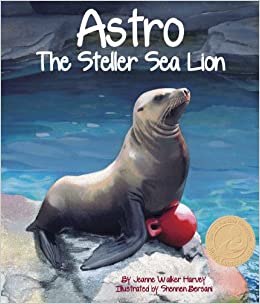 What's the true story behind Astro The Steller Sea Lion? The book, written by Jeanne Harvey and illustrated by Shennen Bersani, is featured in the Caribu app as part of #CampCaribu's Week 6: 'Under The Sea.' The story begins when a very young Steller sea lion pup is found alone on an island off the Northern California Coast. He has lost his mother and has no guidance to obtain food. Scientists from The Marine Mammal Center, based in Northern California, rescue Astro and rehabilitate him. However, when Astro is returned to the wild, he eventually finds his way back to the humans who have cared for him—more than once!
To learn more about what happened to Astro, Caribu spoke to Adam Ratner, The Marine Mammal Center's Associate Director of Conservation Education, who called Astro "an extraordinary case."
"Astro is a Steller sea lion, which is a threatened species," he said. "Unfortunately he was separated from his mother at an incredibly young age, at just a few days old, and found on the beach. Normally Steller sea lions spend nine months to a year with their moms, learning how to swim, learning how to hunt and doing all the things that they need for a sea lion to be a sea lion. In Astro's case, he didn't have that opportunity."
The Center's coastal volunteers helped locate and rescue him. "Luckily, people saw him out on the beach. They got on the phone, and they called our 24-hour hotline. It's how we find out about the hundreds and even thousands of animals every single year that need help. We got our trained volunteers out onto the beach, and we brought him back to the hospital."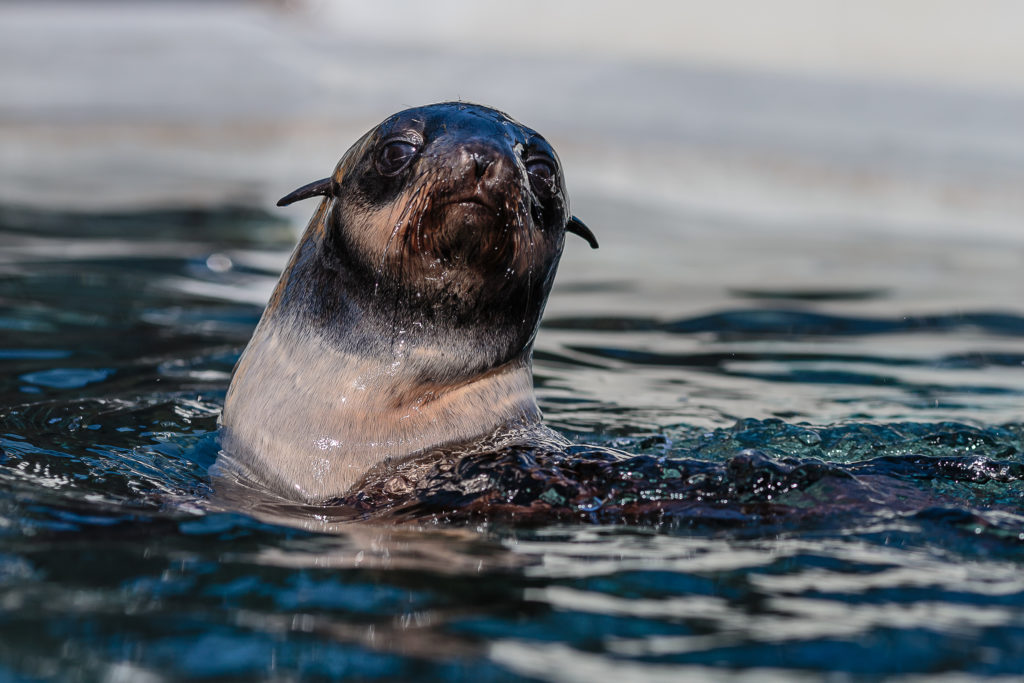 Above: 'Zachary,' a northern fur seal pup, swims in a rehabilitation pool at The Center. Photo: Bill Hunnewell © The Marine Mammal Center
When Astro was rescued, the Center created a nutrient-rich milkshake to feed him, since he typically would have been nursing with his mother. Astro also had to learn how to eat fish on his own.
"We never want the animals to get too used to people, because when they lose their wild instincts, it becomes problematic," Ratner said. "In the case of Astro, he was the youngest Steller sea lion we'd ever taken care of, and unfortunately, he wasn't able to disassociate people from that learning process that he'd normally get from his mom. That was one of the reasons we saw him re-stranding and coming back a second and a third time."
Astro's story is highly unusual for the Center, which encourages animals to become independent so they can survive when they return to the wild.
"We've rescued more than 24,000 animals during our 45 year history, and less than 3% have ever come back a second time. But because Astro was just so young [when he was found] there was not a lot we could do."
After multiple attempts to return Astro to sea, the Center transferred Astro to the Mystic Aquarium in Mystic, Conn.
"If we can't get them back out to the wild, which is our number one preference, we can look for other organizations that can provide a forever home for them," Ratner said. "He's an ambassador for this threatened species, and we're really excited that he has this opportunity to share ways people can connect with seals and sea lions."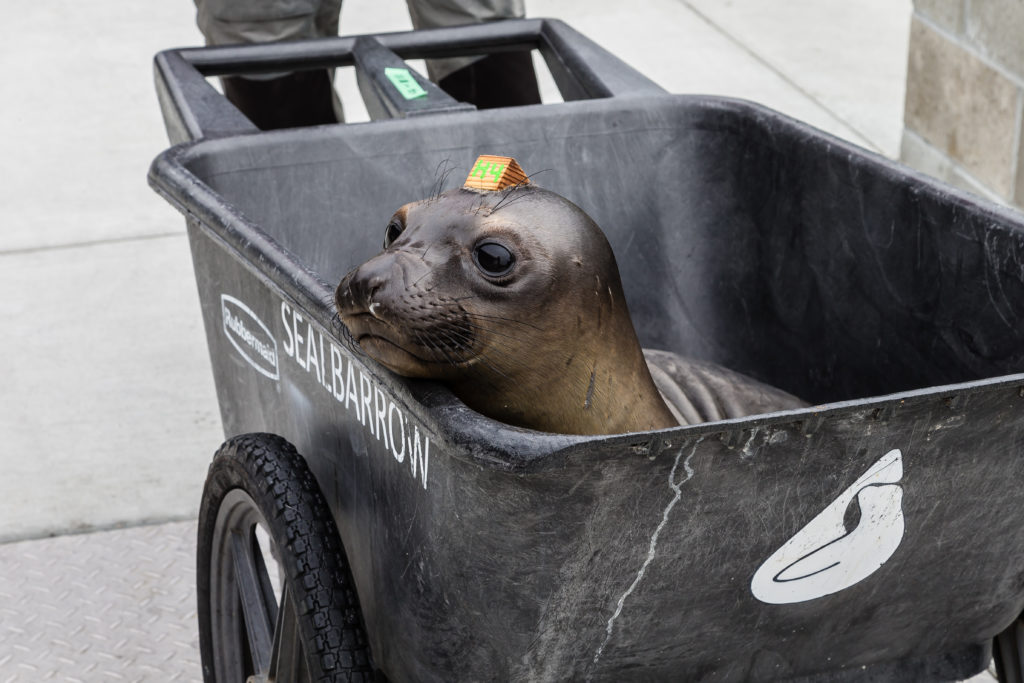 Above: 'Shutout,' a northern elephant seal pup, rides in a 'seal barrow' prior to moving to a new rehabilitation pen at the Center. Seal patients are often given small biodegradable hat tags to help the volunteers and staff identify them in a pen full of other seals. The hat tag will fall off when the animal loses its annual fur coat after it is released back into the wild. Photo: Bill Hunnewell © The Marine Mammal Center
Rescue, Rehabilitation, And Release Efforts
The Center was founded in 1975, and it's the world's largest marine mammal hospital and education facility.
"We want to learn about why these animals are getting sick, how we can help them get better, and share that with a global audience," Ratner said. "And at the same time, provide second chances to animals that are getting sick so they can go back out to the wild."
Ratner explains that marine mammals confront a number of survival challenges on a regular basis:
Maternal separation: "Young pups get separated from moms, through storms, dogs on the beaches, and people. We want to get the word out to everyone: Don't approach animals on the beaches! Keep your dogs on leashes."
Ocean trash: "These animals become entangled in plastics or swallow plastics. Every action we take to reduce our single-use plastics will benefit the animals."
Malnutrition as a result of climate change: "Animals are struggling to find food in a warming and changing ocean. The warming waters shift where the fish like to be. A lot of the fish don't like the warm water so they go deeper and farther offshore. The young seals and sea lions in particular aren't strong enough to dive deeper and go farther. We've seen our numbers going up for those younger seals and sea lions as they're struggling to find that food."
Fishing Practices: "Pay attention to how and where we're catching our fish…You can use tools, like the Seafood Watch app and the Fishwise program that allow you to see the good and bad ways that fish are being caught. When you buy fish, ask, 'Is this caught in a way that protects marine mammals and protects fish stocks?' There needs to be enough food out there for marine mammals and for people."
With COVID-19 safety precautions in place, the Center is closed to visitors, but staff and volunteers are continuing in their mission.
"Right now we have around 50 or so animals that we're taking care of," Ratner said. "We've been able to release a bunch of them even during the pandemic."
The Marine Mammal Center team currently has many patients that are Guadalupe Fur Seals, a little-known offshore species that is listed as threatened under the Endangered Species Act.
"We've rescued a little over 10 of them this year, and they are struggling for two different reasons," Ratner said. "One being malnutrition; they are struggling to find food right now. Another is due to ocean trash. They are getting caught in various things. Luckily the same groups of volunteers that helped care for Astro are helping to care for the Guadalupe Fur Seals, and helping them get better!! Hopefully within the next week to two weeks, a lot of those Guadalupe Fur Seals are going to go back out to the ocean, healthy and happy."
Volunteers Along The Coast
The Center has a volunteer team of 1,400 people, ages 15-97, in California and Hawaii. Onsite volunteers focus on animal care, including feedings, cleaning, administration of medicine, helping with research, and supporting the veterinarians. Education volunteers teach and lead tours when the Center is open to the public. Rescue and assessment volunteers spread out along the coast to monitor beaches for distressed marine mammal sightings.
"They are the ones who go out to a beach when we get a phone call," Ratner said. "We dispatch the volunteers to see if the animal needs help. If they do, we can rescue them and start driving them to the hospital."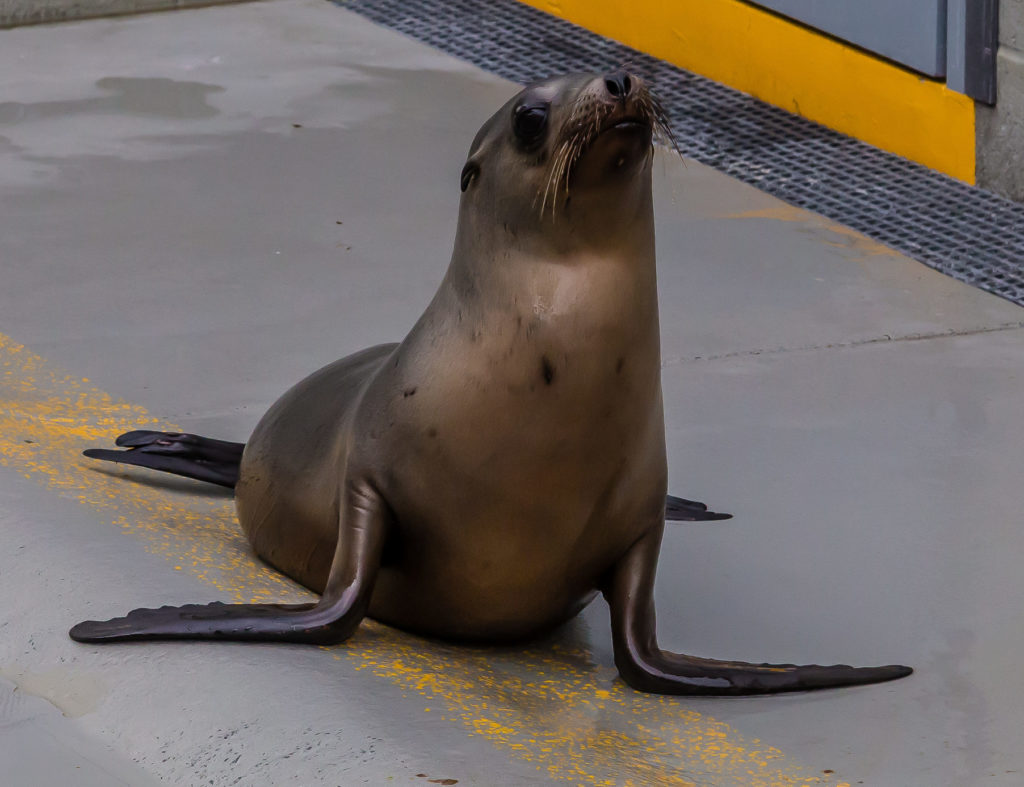 Above: California sea lion 'Corcoran' explores a pool pen during rehabilitation. Photo: Bill Hunnewell © The Marine Mammal Center
Supporting Marine Life
With the Center closed for the time being, there are still many ways that families can support marine mammal conservation from their homes.
Download the Caribu app to read books about underwater animals and ecosystems. Plan a video-call with a family member so you can learn about marine mammals together in an interactive playdate. 
On the Center's website, kids can learn about marine mammals and follow patient journeys. Every "Marine Mammal Monday", a new video is posted on the website and on the Center's Facebook page, featuring up-close encounters with marine mammals, and fun facts about their lives. Learn about marine mammals that have been rescued, and track their progress. 
Families and communities should aim to reduce their use of single-use plastics to create a cleaner and less dangerous ocean for all marine animals.  
Strive to reduce your carbon footprint by walking and biking whenever possible, rather than driving.
To further reduce your carbon footprint, Ratner suggests that families skip one meat dish per week: "Producing meat is energy intensive," he said. "If you skip one meat dish per week, it's like driving 1,200 miles less over the course of the year."
Families who would like to make financial contributions to support The Marine Mammal Center can make donations, and participate in its Adopt-A-Seal program. 
However you choose to support marine life, Ratner reminds readers that it's key to stay connected with wildlife organizations so you can take action to protect oceans and endangered species.
"We see ourselves as a resource to the community," he said.
---
Want to learn more about marine mammals? Download the Caribu app to read all of the books in our #CampCaribu Week 7 'Under The Sea' selection, including fictional and factual stories about marine wildlife. To sign up for #CampCaribu, visit www.caribu.com/summer to access hundreds of books and activities for every day of summer. It's the only summer reading program that you can do together with family and friends in an interactive video-call while social distancing.  
---
Beth S. Pollak is a writer and educator based in California. In addition to working with Caribu, she consults with educational organizations and EdTech companies. Beth has worked as a teacher and journalist in Chicago, New York, and San Francisco. She holds degrees in journalism, bilingual education, and educational leadership. In her free time, she enjoys hiking, biking, picnics, and dance.