By Beth S. Pollak
"You are more likely to find a book about a dog, a cat or a humanoid than a book with a Black child on the cover or between the pages."
So began a conversation with author B.K. Fulton, creator of the Mr. Business series, a seven-book series based on his childhood experiences. This week Caribu is featuring the second book in the series, The Science Project, as part of the #CampCaribu 'Courageous Conversations: Anti-Racism' Week.
"It's important for people to read about Black people's achievements," Fulton said. "It's not okay just to read about slavery and our sorrows. Reading about the achievements and accomplishments of people of color is transformative. Reading about the successes of my ancestors gave me hope and turned my life around."
Fulton's sense of mission was born in his second year as an undergraduate engineering student at Virginia Tech. "During my first year in college, I focused on the good times: I was an athlete, I had girlfriends, I slept a lot, I hung out a lot, and I danced a lot. But soon I started flunking out. Things got so bad that I went to the library to plan my escape from Virginia Tech. I found myself in the e185.5 section of the library, the section about African Americans. I learned that African Americans were responsible for the first open heart surgery [Daniel Hale Williams]; the separation of blood plasma [Charles Drew]; and electric rails [Granville T. Woods]. At first, I became angry. I never knew these things before. This anger motivated me. The stories inspired me and screamed that I could do well at Virginia Tech or anywhere I chose to be. I moved from the probation list to the Dean's list, to the Board of Visitors! My life changed 180 degrees."
After graduating with a degree in Urban Affairs and Planning, and two years of computer engineering, Fulton earned a scholarship (Sloan Fellowship) to go to graduate school for management and public policy at The New School. He went on to complete a law degree at New York Law School and earn a Professional Certificate in Public Policy Analysis from Harvard's Kennedy School of Government. He worked in senior roles at the National Urban League, the U.S. Department of Commerce, AOL, Time Warner, and Verizon before he retired and began his writing and media career.
Fulton's first book Shauna is written about his sister, who has Rett Syndrome, a disease that prevents her from speaking and walking on her own. "I wrote the base thoughts for the book as a poem when I was 16 years old, and I didn't publish it until I was 50. My wife made me do it. I learned a lot about people through my sister. I learned about communicating deeply. I learned about empathy and body language. I learned how the capacity of humans is not always cultivated. I learned to actively listen and not just hear."
Mr. Business Tells His Story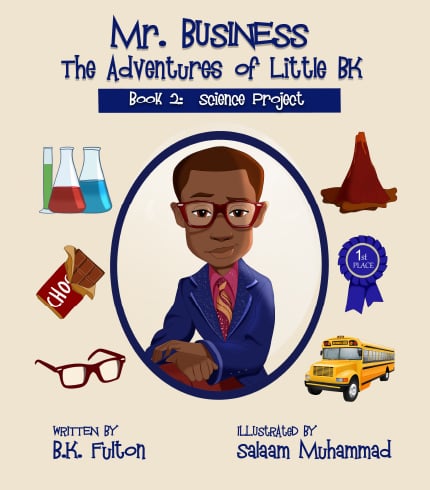 The Mr. Business main character, B.K. (short for Brian Keith), is a third grade boy who faces the everyday challenges of being a kid: starting a new school year, making friends, connecting with his family members, and saving money for treats. He also deals with bullying and mean comments that any youth might experience from time to time. In Book 2: The Science Project, a girl in B.K.'s class comments on his dark skin. The story captures B.K.'s feelings as he reacts to the situation. He must decide how to respond in order to feel confident at the science fair and inside of himself.
The story is based on true events from Fulton's childhood, when a classmate mocked his skin tone before a school science fair.
"I wasn't sophisticated enough at the time to know exactly what to say to that young lady," he said. "I internalized her comments and it hurt. If kids can learn to deflect negative comments, it really does matter…By the way, I won the science fair."
Fulton's B.K. character demonstrates that kids faced with bullying can manage tough situations if they stay calm and focus on their inner value rather than how others see them.
"I know that little brown boys and girls don't often get to see themselves as problem-solvers in books or in the media. In the Mr. Business books the chocolate kid is a leader and is confident. My books challenge the status quo. I want to help all kids to feel comfortable in their own skin. I want to write universal stories that are pulled right from my life as a child and the lives of others. The authenticity is part of the medicine. All kids deal with challenges, which are an inescapable part of growing up."
Inspired by the contributions of African-American scientists and creators, Fulton says he hopes the books will help kids understand their potential.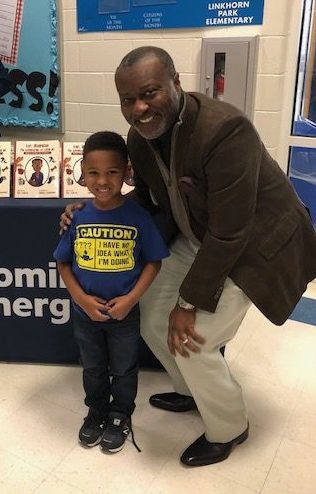 "People that study and read are not nerds. I'm intent on making smart "cool." I want that for young people. I almost flunked out of college and look at me now -— I write books, make movies, and invest in leading technology companies. Kids should stop hiding their gifts. Many Black kids are told that if they are smart, they are acting White. Think about that: the smartest Black kids are bullied for acting White. It's crazy!"
Fulton said he chose the Mr. Business title of the series as a way of defeating entrenched negative imagery about Black children.
"Art has the power to heal. If we can associate brown children with business and success — something that is different from the negative stereotypes we see in the popular media — we can put them on a path to their best lives. These books are not about entrepreneurship. They are about being comfortable in your own skin, and rocking your own style. The books share the story of how Little B.K. went about his business. B.K. is a kid who gets it done."
Fulton collaborated with illustrator Salaam Muhammed to create the books as graphic stories. "I wanted images that looked real — not humanoids. I wanted images that conveyed charm with a sophisticated look, so that people would respect and want to be like them."
Seeking An Authentic Reflection
Fulton says it's essential to publish more books with Black protagonists and kids of all ethnicities working together. "If you don't see yourself reflected in the pages, the message is, you and your contributions are not important. It's time to change that narrative. Our current education has a large gap between indoctrination and critical thinking. I want to help close that gap with the truth — all of us are created equal."
He shared an example from one of his readers: "One grandfather drove three hours to meet me. He was in tears after seeing how his grandson reacted to my book. His grandson read the book and said, 'I'm going to read this to all of my friends. That's me!' Black kids rarely see themselves on the cover of a book."
Each of the Mr. Business books has six pictorial clues on the front so you can guess what happens in the story. At the end of each book there is a journal entry with a tip to help kids build their confidence.
"I want to help everyone to be the best version of themselves. If we can do that, we will have more cures, more inventions, better food, and more clean water. More people will contribute beyond just having to fight for survival. We need education, training, and more cooperation for everyone to experience the good that life has to offer."
Readers Become Leaders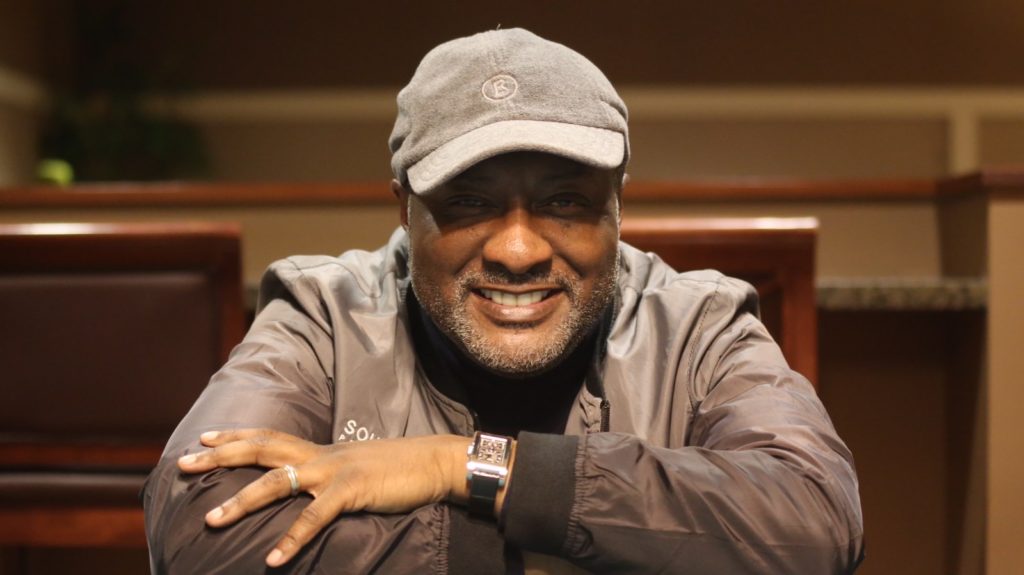 Currently, Fulton is the founder and CEO of Soulidifly Productions, which produces films, music, books, and more. He is the past founding-chairman of Ario, an augmented reality (AR) software company that has won major international awards. BK also is working on other entrepreneurial media projects, including an app, Preshow.co, to be released this summer, that will allow people to go to the movies for free, and stream all of their favorite services like Netflix for the price of watching a few ads on their phone.
Soulidifly's most recent film production, 1 Angry Black Man, was released last week to audiences worldwide on video on-demand, DVD, streaming services, U.S. cable services, and in select theaters via virtual screenings. It has won numerous awards and was called "a stellar debut" by Boston Herald columnist James Verniere and possibly "the most important film opening online this week."
Fulton is working with the University of Pennsylvania to create free curriculum guides to accompany the Mr. Business books. "I believe that readers become leaders. It's simple but it's true. When my friends ask me why I work so hard, I say 'I work while you sleep, so I can live like you dream.'"
In light of recent incidents of police violence against Black people, Fulton says that change can't come soon enough. "I couldn't sleep for two days after I saw on national TV that George Floyd was murdered by those who have pledged to protect and serve," he said. "People feel angry about the images that they see; but the soup of poorly informed opinions and the bias we all experience, leads to tragic mishaps and outcomes. What can I do about it? I don't have the luxury of just being upset. I have three sons. I need to go into problem-solving and action mode to make sure they come back home safe and sound. "
For Fulton, that means speaking out against institutional racism, and creating books, films, businesses, and sharing opportunities that convey critical lessons. He calls it "art, music and media with a message."
"Institutional racism means that we underplay Black accomplishments and we overplay the achievements of people of European descent, which creates a pathology of racism and privilege for everyone. Many people are not even aware of Black people's contributions. Lewis H. Latimer helped create the light bulb by inventing the carbon filament. Gladys West designed the global positioning system or GPS. Henry Sampson invented gamma-electric cells that allow power companies to generate extra power from the shielding of nuclear plants. We all should learn about these great American inventors. Institutionalized racism leaves these pioneers out of our collective story of progress and hope."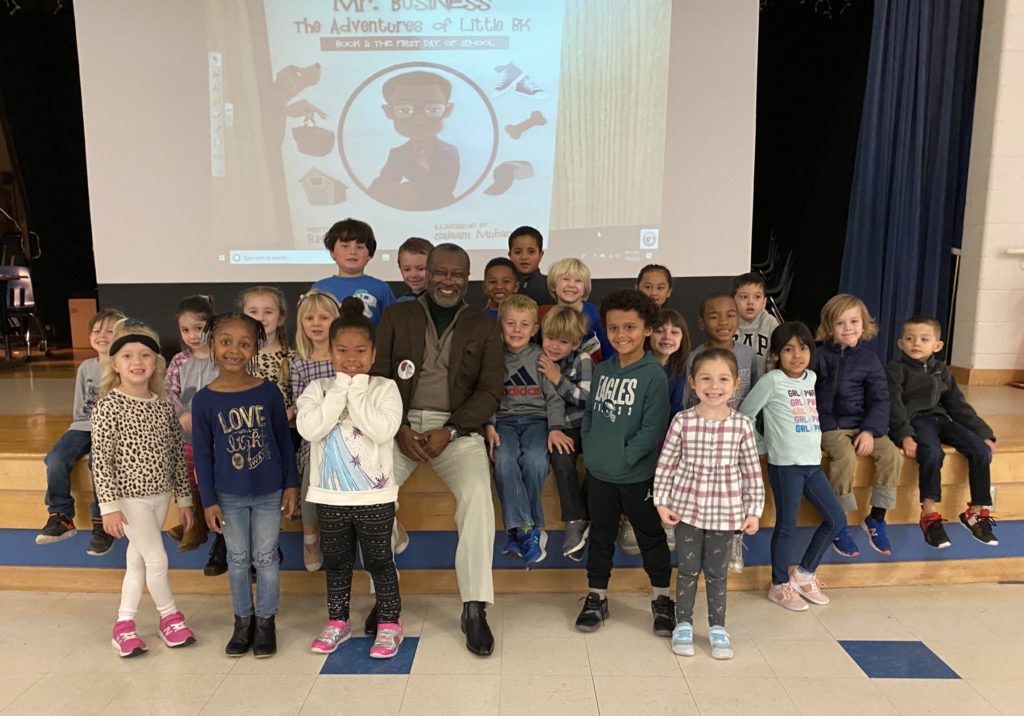 He added that reading, education, and honest conversations can pave the way to better understanding. "In the end, we are simply one human race sharing the same rock. We are all cousins trying to find our way home."
Children's books can offer important starting points for learning and conversation.
"Iconography matters. Children's books provide an opportunity to touch a blank and curious tapestry. We have an opportunity to use books to heal and teach a new generation. We need to say to kids that it's okay to be in your own skin, to be your own gender, to rock your own style, and that it's okay to be who you are."
Fulton pointed out that apps like Caribu are critical tools to combat institutional racism, since they provide readers across the globe with a platform to access new authors and new voices.
"Consider the world as a big puzzle. Each of us is a piece. We have to use the tools of our time to learn and figure out who we are so that we know where our piece fits in the divine puzzle of life. Caribu, by putting 1,000 stories in the pockets of tomorrow's leaders, is an engine for civil society. Readers become leaders. I love Caribu and I'm honored that all of my books are on the application. We know where our pieces fit."
You can read all seven of the Mr. Business Books on the Caribu app. They are available in Caribu's in-app library, in the "Ages 4-7" and "Ages 8-12" categories.
---
Beth S. Pollak is a writer and educator based in California. In addition to working with Caribu, she consults with educational organizations and EdTech companies. Beth has worked as a teacher and journalist in Chicago, New York and San Francisco. She holds degrees in journalism, bilingual education, and educational leadership. In her free time, she enjoys hiking, biking, picnics, and dance.