Covid-19 has left many families physically isolated in their homes. A lot of people have a lot of questions, and parents who are furloughed, laid off, or ordered to close their small businesses are facing the specter of financial insecurity. Unfortunately, anxious parents make for anxious kids. And, despite their best efforts, the massive social disruptions caused by the coronavirus are impossible to hide from children. (School being canceled for the rest of the year is a dead giveaway.) During this time, parents need to model effective stress and anxiety management for their kids. The tricky part is finding a language to help parents and children communicate about what emotions they're feeling. That's where a feelings chart can help.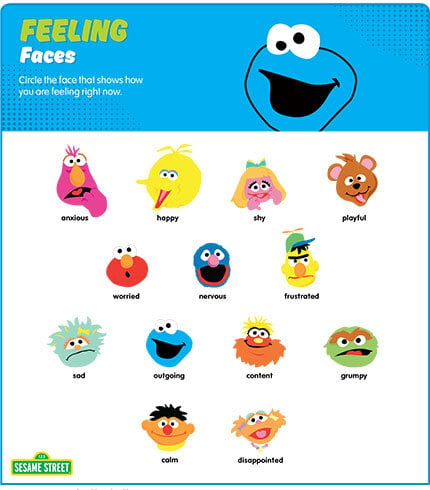 A feelings chart is really any tool that helps a child expand their emotional vocabulary. It helps kids reflect on their feelings and describe them with more precision. "It can be a list of feeling words or a picture chart of words and expressions – whatever the child finds easier to use," says Ellen O'Donnell, Ph.D, pediatric psychologist at MassGeneral for Children in Boston, instructor at Harvard Medical School, and co-author of the book Bless This Mess: A Modern Guide to Faith and Parenting in a Chaotic World. "It's a fairly intuitive idea, as anyone who has sent an emoji in a text, rather than a prolonged description of their emotions, can attest to."
Feelings are nuanced, and a lot of times sad/mad/scared/happy doesn't cut it. A feelings chart — or wheel or whatever you feel is best — presents kids with more options for reflection. It can also help them understand that they can experience more than one emotion at a time, even feelings that seem to contradict each other.
Understanding emotions is complex stuff and young children lack the cognitive reasoning skills to name theirs properly. Having a tool like a feelings chart helps parents and children communicate better. This is always a crucial skill for families, but even more so now that with everyone feeling trapped in the house.
"Having an accurate and specific label for a feeling helps kids (and helps parents help kids) feel their feelings, validate them and accurately empathize with them," says O'Donnell. "And it helps parents find an effective solution if and when the kids are ready for one."
Many kids who initially felt happy to have time off from school, O'Donnell adds, are now feeling sad to miss their friends, bored without their usual activities, and maybe a bit more irritable and angry. "If we can help them accurately label these feelings we can help them come up with coping skills to practice, like FaceTiming a friend when they're feeling sad, lonely, bored and irritated with siblings."
Kids may not want to speak about their feelings right away, and that's fine. Feelings charts don't have to be printed sheets, or take place during a formal discussion. Making things too serious can sometimes be counterproductive. Parents simply being present with their children can draw out these feelings, and the feelings chart can grow out of that.
"I recently had a five-year-old patient who independently started her own feelings chart by drawing a heart and writing some words with arrows pointing to the heart to describe how she has been feeling while home on quarantine with two medical provider parents," says O'Donnell. "We added new feelings words to it in our session."
Things are not normal now, and normal is probably not going to be the same as it was. In the meantime, while families are staying at home and cut off from their routines and their regular support network, they will need to be able to communicate and solve problems that they perhaps were able to avoid before, when work, school, or activities offered respite. But once normal returns – whatever that will look like – reflection and communication are skills kids and parents will use for the rest of their lives.
---
In the Caribu App, you can find a "Feelings Faces" feelings chart that kids can discuss and draw on. It is located in the "First Call" and "2-Person Activities" sections of the Caribu Activities category.
You can read the original article on Fatherly.
Matthew Utley How Feelings Charts Can Help Anxious Kids During the Pandemic, April 17th 2020, https://www.fatherly.com/parenting/how-feelings-charts-help-anxious-kids/