A FREE summer reading program to keep kids on track for the next school year!
Books, activities, and challenges all summer!
Caribu is teaming up with Share the Magic Foundation for READCamp, A Read with Malcolm Literacy Initiative to offer a new Summer Reading experience in 2022. Kids will participate in training, drills, and practice in order to maintain literacy skills and stay in great reading shape. Led by "Head Coach" Malcolm Mitchell, READCamp motivates kids to sack "the summer slide" and tackle the learning gap. With Caribu, kids can also read books, then discuss with family and friends in an interactive video-call. Sign up and participate in READCamp for Free!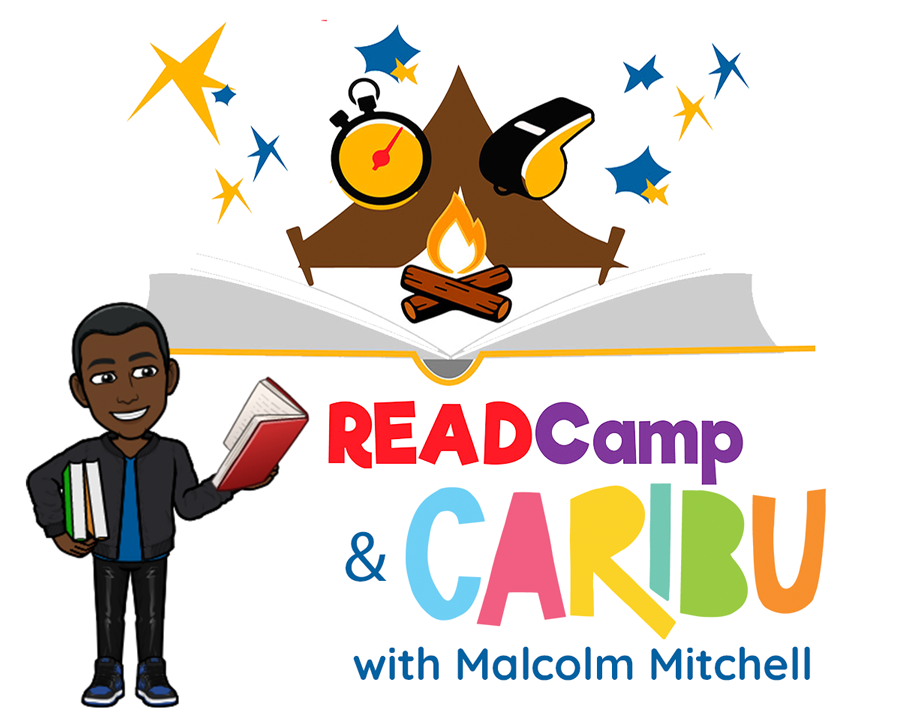 READCamp Everyday Training Protocol #READCamp
Morning Wam-Up: Five (5) minutes of independent reading. 
All books can be found on Caribu in the "READCamp Category"
Book Suggestions: Rosita and Elmo Read A Recipe, A Busy, Busy Day!, Chicken Little: A Cautionary Tale, Wobegon and Mildred
Book 1: Reading Conditioning: Read a book at your current level
Featured Caribu Books: Goodnight Octopus, Pinky Dinky Doo: Shrinky Pinky, Octavia and Her Purple Ink Cloud, You Can Be a Soccer Player, Thomas & Friends: Taking Turns, We Are Traveling Today, Angelina Ballerina Tries Again, Suki Comes Home, Kickin' it with Kenzie: What's Meant For Me Will Be, The Great Free Throw Challenge, Buster the Delicate Doodle, The Donkey and the Garden
Conversations For Your Caribu Call:
What is something that you couldn't do on the first try and had to practice to do it well?
Have you read a book where the main character had to work/practice to achieve something? Which book was it?
---
Book 2: Reading Speed: Read anything that you can finish in less than five (5) days, but no less than two (2)
Featured Caribu Books: Cinderella and the Vampire Prince, The One Great Gnome, The Secret In the Jelly Bean Jar, The Case of the Clicking Clock, The Really Big I Didn't Know That Book, The Really Big I Know About Book, The Really Big Awesome Dinosaurs Book, A Step Toward Freedom, The Tale of Samuel Whiskers, Secrets of the Castle
Conversations For Your Caribu Call:
What are the types of books that you can read quickly?
What types of books take longer to read?
Do you like reading quickly or slowly better?
---
Book 3: Reading Strength: Read a book that has new and fun words for you to learn to become a stronger reader
Featured Caribu Books: Miss Paddington and the Silver Mousetraps, 50 Things You Didn't Know About Ancient Egypt, The Conundrum of the Crooked Canyon, Fashion Riles! A Closer Look At Clothing In The Middle Ages, Sports of the Paralympic Games, Why Do They Do That, The Vexing Hectare Detector, Nia the Germinator, Wilma Rudolph: Fastest Woman on Earth, Daniel Inouye: WWII Hero and Senator
Activities and Conversations For Your Caribu Call:
Have you read a book that made you feel stronger as a reader?
Pick a new word you learned in your book and use it in a sentence when you are talking to someone!
---
Book 4: Special Teams Reading Drills: Read your very favorite book in the whole wide world 
Featured Caribu Books: Hot Wheels: Dino Attack!, Lucy Tries Basketball, Thomas & The Dinosaur, Sneezy Bear, Wheels on the Bus, Blu Blu Blanket Where Are You, You Can Be An Ice Skater, 4 Little Pigs, Cinderella, Bert and Ernie's Great Adventures: Ooga-Booga Dinosaurs, Aladdin and the Magical Lamp, My First Storytime: Rapunzel, Are You A Polar Bear, Real Jungle Tales, Angelina Ballerina Sleepover Party!, Croc On The Rock, A Cool Summer Tail, The Princess and the Poison Pea 
Activities and Conversations For Your Caribu Call:
What do you look for in a book?
What makes you want to read a book?
What is your favorite genre of books? Why?
Share your favorite book with Malcom, READCamp@readwithmalcolm.com
---
Book 5: Superpower Reading: Read a book about your favorite superhero, or someone who inspires you
Featured Caribu Books: Dream Catcher, Ellie Marches On, Who Is A Hero, Potty Superhero: Get Ready for Big Boy Pants, 1000 Adventures, Mr. Business Little BK #5, Animal Superpowers Series (Masters of Disguise, Strange Bodies, Super Senses, Super Speed, Super Strength, Deadly Weapons), The Tooth Fairy's Tummy Ache, You Are a Superhero, DC Comics DC Super Hero Girls Series, Here Comes Super Grover, Sesame Street H: is for Hero, The South Pole's First Christmas
Conversations For Your Caribu Call:
Who is your hero?
What person or character from your book do you want to be like when you grow up? Why?
When was a situation where you needed to be strong like the hero in your book?
---
Book 6: Curious Reading: Read about something you have always wanted to learn more about 
Featured Caribu Books: V.R. Space Explorers: Titan's Black Cat, Ocean Seasons, Meet the Planets, Living Things and Nonliving Things, A Day in the Deep, The Rainforest Grew All Around, Henry the Impatient Heron, A Day in the Salt Marsh, Animal Mouths, Animal Tails, What's New at the Zoo?, I Know About: Dinosaurs, The Really Big Awesome Dinosaur Book, The Case of Story Rock, Tiny Travelers Series (Japan, India, Mexico, Puerto Rico, China), What Makes People Laugh?, You Can Be A Scientist, Ancient Rome, The Microscopic Snot Debacle
Activities and Conversations For Your Caribu Call:
What did you learn more about? what made you interested in it?
Pick two new things you learned from reading about something new and share them with friends and family!
---
Book 7: Team Reading Activity: Read loud and proud with your friends or family on Caribu!
Featured Caribu Books: Team Sports of the Summer Games, The Hint in the Peeping Pupil, Sesame Street Comics: Many Friendly Neighbors, Ira: Science Fair Winner, Mars Rover Rescue, Millie Blueberry Mystery: The Break-in at Seaside Library, Puxi and Ninja Bill, Tavon Does It All, Melvin Goes To The Ballpark, Midnight Madness at the Zoo, River Rescue, Looney Tunes No 72, Scooby-Doo! Team-Up No 1 Man-Bat and Robbin' Part 1, Scooby-Doo! Team-Up No 2 Man-Bat and Robbin' Part 2, Teen Titans Go! Roll With It! (2020-), Find Your Funny Bone, The Granimal 1: The Egg, The Rhino Who Swallowed a Storm, The Great Forest Bake Off, A Day on the Farm, Let's Explore Together, Teamwork, You Can Be A Gymnast
Conversations For Your Caribu Call:
Do you prefer to read alone or with someone else? Why?
Who is on your Read Loud and Proud team?
What is something that is better to do as a team?
What is the last thing you did that required teamwork?
---
Book 8: Finish READCamp Strong: Select your last book to energize you to become a READCamp Champion!
Featured Caribu Books: Sunny Day, Abbey & Axel's Guide To Adventure, Landon Meets The Food Trucks, The Ants Go Marching One By One, Sunny Days, Be Who You Were Meant To BeFree to Be Incredible Me, A Cool Summer Tail, A Day at the Beach, Hina's Busy Day, Piko's Busy Day, A Garden Treat, Bella's Bubble, Breadsticks & Bow-Bow: The Perfect Picnic, Barnaby Barchart's Beach Vacation, Enny Penny and the Mermaid, Melvin Learns How to Swim, A Family Forever, Turtle Summer, Ferdinand Fox's First Summer
Conversations For Your Caribu Call:
Who in your life has inspired you to be a better reader?
How would you motivate someone to enjoy reading and become a better reader?
BONUS: What was your favorite part of READCamp?
---
BECOME A READCamp MVP: Read 4 more books to win MVP this summer season! 
Featured Caribu Books: Your choice! Explore Caribu categories like Chapter Books, Animals, Dinosaurs, Space and many more! 
Conversations For Your Caribu Call:
Which four (4) books did you select to become MVP? 
How did you select your MVP books? 
BONUS: What was your favorite part of READCamp? 
Share your book selections at ReadCamp@readwithmalcolm.com or on social media. Tag @readwithmalcolm and use the hashtag #READCAMP for a chance to have your book selection featured on Friday Night Reads this summer!