By Beth S. Pollak
When author Lisa Bowes began writing the books in her Lucy Tries Sports series, she knew that the stories would be about more than just playing.
"Lucy is a global perseverance champion for all kids," she said. "I chose the word 'tries' in the title intentionally. It could have been 'loves' or 'plays.' But sometimes children quit sports too quickly. It's important for them to try and persevere through challenges."
The Lucy Tries Sports series is featured as part of #CampCaribu's 'Healthy Me' category and summer reading challenge. All five books are available in Caribu's in-app library, as well as translations to French. With sports opportunities limited during this time of social distancing, reading the books on a virtual playdate with Caribu can open the door to meaningful family conversations about teamwork and sportsmanship.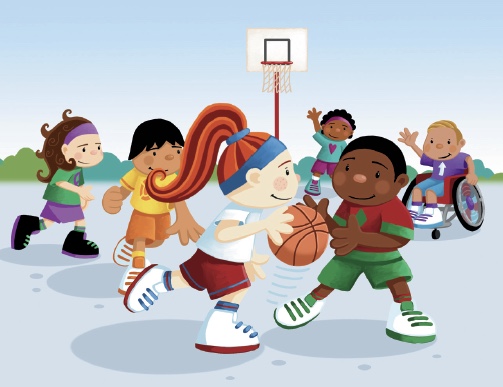 Bowes points out that the lessons kids learn through trying sports can serve them in many areas of their lives. "Whether kids are learning to read or learning to kick a soccer ball, it's worth it to stick with it. For example, in Lucy Tries Basketball, Lucy shoots and misses…more than once! From this, kids can learn that it's okay if you miss; you should keep trying and make more attempts. This can help build resilience at a young age, and help kids overcome challenges later in life."
Bowes is a veteran sports journalist, who has covered pro and amateur sports since 1989. She also has been the play-by-play voice for Canadian women's hockey and basketball. Prior to working in media, Bowes graduated with a physical education degree.
"I was inspired to write these books once I became a parent; I wanted to educate parents and families about different sports, like luge and short-track speed skating."
The Lucy books feature diverse characters with different skin tones and with different abilities, including Brett, one of Lucy's friends who competes using a wheelchair in Lucy Tries Basketball. The stories are illustrated by Canadian artist James Hearne.
"Physical activity is important for everyone!" Bowes said. "Lucy and her friends are relatable characters. Children can see themselves in a Lucy book; and if they can see it, they can be it."
The National Hockey League (NHL) has included Lucy Tries Hockey in its "Committing to Change" Resource Guide, which focuses on awareness, allyship, and advocacy for racial justice, diversity, and inclusion. It lists the book under "Children's media to spark discussion."
Bowes adds that she chose Lucy to lead the series in part to amplify a female athlete as a protagonist.
"A girl hero in the sports space is unique, overdue and awesome," she said. "Little boys love Lucy too! The deep subtext is to take a look at what we can do to form the perception of girls from when they're young. When kids see a strong and courageous girl character from an early age, this might influence their perception of how they see girls in their lives, and then later, women."
Some of the Lucy books are endorsed by real-life sports heroes, like WNBA player Kia Nurse, ice hockey Olympian Hayley Wickenheiser, who's now a coach for the Toronto Maple Leafs, and ice hockey player Mark Giordano, captain of the Calgary Flames.
Foundational Skills
The Lucy Tries Sports books focus on skills for children's social and emotional development that can help them become better athletes and team players. They build on principles of child development according to High Five, a Canadian organization that provides standards for children's recreational programs.
High Five recommends that sports programs include:
A caring leader who provides supportive relationships that help children develop positive social skills, self-esteem, and self confidence.
The opportunity to make friends: Positive peer interaction through environments that foster inclusion, acceptance, the opportunity for fun in constructive play, and the opportunity to develop and practice pro-social skills.
The opportunity to participate in ways that allow children to make choices, have a voice, and do things by and for themselves.
The opportunity to play in a way that emphasizes fun, creativity, co-operation and imagination; and play that develops motor and social skills, cognitive function, and creativity.
The opportunity to achieve mastery of activities and tasks through rich content-based learning with structured and unstructured strategies.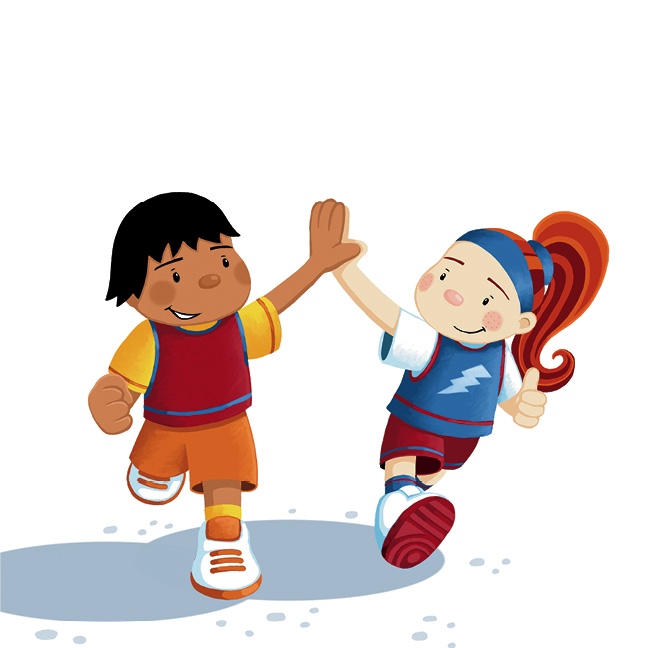 Bowes's commitment to these principles is evident in each of the Lucy stories. The books highlight supportive parents and coaches, cooperative friendships, entry points to participate in unfamiliar sports, and step-by-step breakdowns of new skills.
"Through my background in physical education and sports media, I wanted to be able to incorporate these principles into the Lucy books," Bowes said.
Bowes reaches out to sports institutions and educational organizations to incorporate best practices and key reading goals into the books.
"I work with national sporting organizations so I can learn about the journey for a little one who wants to try the sport, and introduce fundamentals that will help them succeed. I speak with librarians and teachers, and I study early reading books so that I can tailor my stories for ages 3-8."
The Lucy Tries Sports books also meet the goals of the The U.S. Olympic Committee's American Development Model (ADM), which emphasizes universal access to sports opportunities; developmentally appropriate activities for motor and foundational skills; multi-sport participation; a fun and progressively challenging atmosphere, and quality coaching at all age levels.
"It's important for groups to come together to provide resources for healthy development of athletes," Bowes said. "We want to inspire children to be active and try sports, and do so as they learn to read."
Lucy's Journey
When Bowes created the first book, Lucy Tries Luge, she was inspired partly by the success of the Canadian national team en route to the 2014 Sochi Olympics.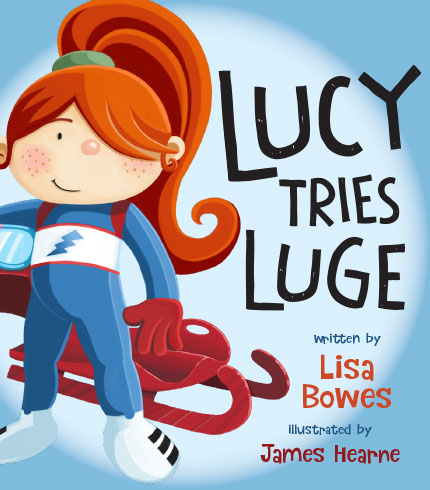 "Canada had a strong luge team. I really wanted to get the book out before the games. We donated 20,000 copies to local school boards ahead of the Olympics."
Luge can be a dangerous sport that not many kids are able to access. However, Bowes uses Lucy's experience to show a connection between luge and family sledding activities.
"When Lucy makes the connection between luge and tobogganing at home, it's a connection other kids can make too, which makes the sport more approachable. This can help little kids in winter countries see themselves doing an Olympic sport. There are almost no other books about sliding sports—most books are about mainstream sports. Kids can feel like they are doing an Olympic winter sport when they go sledding."
The USA's luge team has celebrated the book and its messages. Luge athletes like Erin Hamlin and Chris Mazdzer have lent their support through read alouds and media postings, and it's available in hardcopy at the Lake Placid Sliding Center.
Celebrating Friendships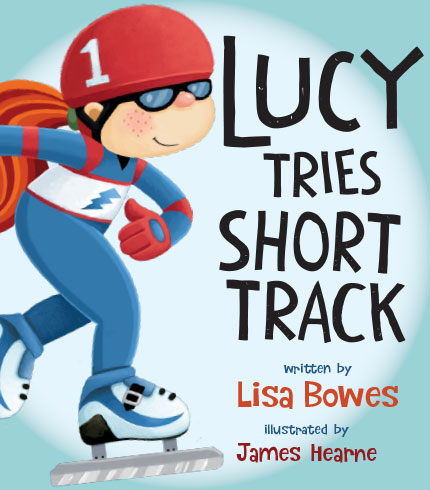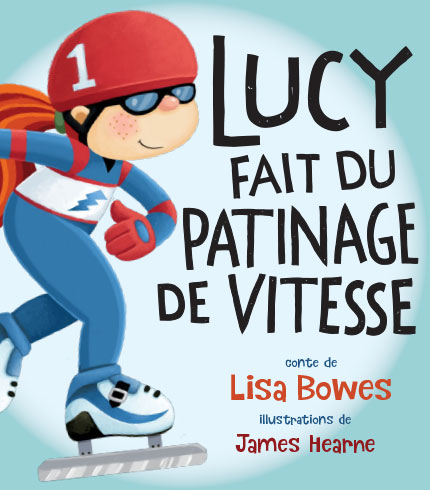 Bowes's second book, Lucy Tries Short Track, introduces readers to Lucy's diverse group of friends. Even though Lucy doesn't win the speed-skating race in the book, she shows good sportsmanship and cheers for the other kids. This teaches about healthy rivalries and celebrating friends' wins.
"I've seen a lot of kids today who want to be the one who wins all the time," Bowes said. "This book shows that there's nothing wrong with not winning the game."
She adds that the book offers an introduction to a less visible ice sport. "Some kids might not want to figure skate or play hockey, and those often seem like the only options. Speed skating is an opportunity to skate that is more low cost and accessible."
Most of the Lucy books are available in French and simplified Chinese, as well as in English.
"Speed skating is extremely popular in Québec," Bowes said. "There's no way we couldn't publish that in French! Hockey is also popular nationwide, and basketball is the fastest growing sport under age 16 in Canada, especially with the Toronto Raptors' 2019 NBA Championship win."
Speaking of which, in Lucy Tries Basketball, one of the characters scores a "buzzer-beater" shot, similar to Kawhi Leonard's shot at the end of Game 7 of the NBA Eastern Conference Finals that led the team to the NBA Championship.
"It was kind of neat that I had written it that way before the finals," Bowes said "I couldn't have predicted it!"
Going forward, Bowes says she is considering baseball and diving for Lucy's next sports.
"I'm also working on a resource book for all elementary kids— Lucy's Big Book of Sports—featuring 200 sports in the world that anyone can try."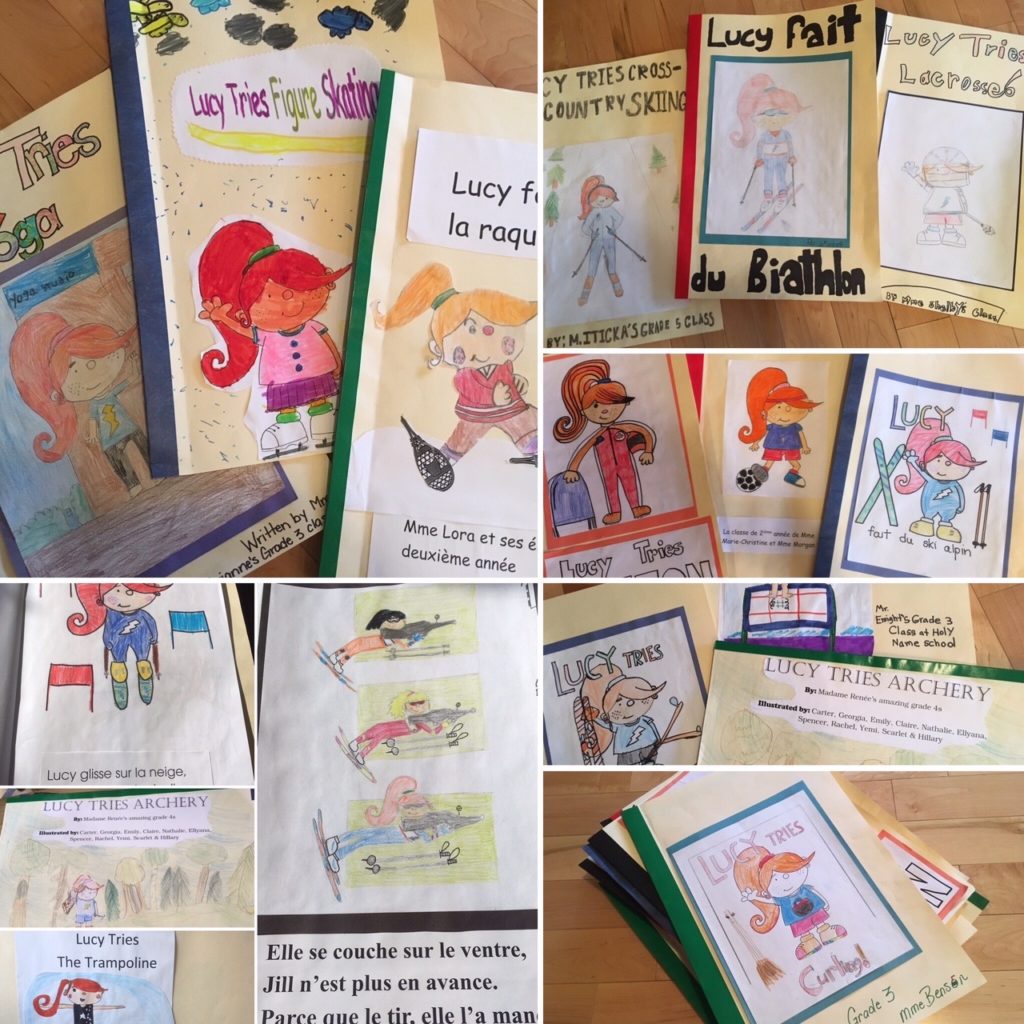 In addition, Bowes is collaborating on a dance book with First Nations communities that teaches indigenous dances.
"This is a chance for Lucy and Friends to learn about the power of dance and culture in First Nations communities. I see this as an opportunity to participate in the reconciliation efforts with First Nations communities in Canada."
Bowes leads writing residency programs for school-age children, and gives them a chance to write their own Lucy stories. They have contributed self-made books featuring a variety of "Lucy Tries" activities, from surfing to archery to yoga. Since the COVID-19 pandemic began, Bowes has led curbside readings of her books, sharing the Lucy stories from a safe social distance.
Active Choices And Healthy Lifestyles
Bowes points out that the Lucy books can be resources to encourage kids and families to try a variety of activities and live healthy lifestyles. A recent report in Canada indicates that many kids do not spend enough time doing physical activities. Only 39 per cent of children (aged five to 11) and youths (12 to 17) met the national physical activity guidelines of 60 minutes of moderate to vigorous physical activity per day, according to ParticipACTION, a non-profit group that promotes healthy living.
"Physical literacy is as important as math and reading," Bowes said. "Being active means you can have a healthy life. Have kids try many different sports as opposed to specialization. Build a love of activity into your life."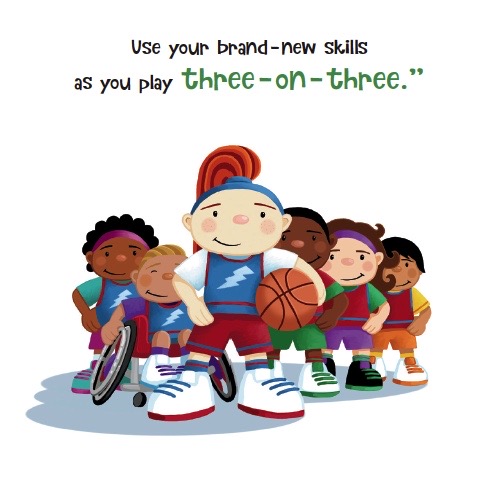 Even though some kids cannot access ice rinks or sports fields, Bowes says introducing children to sports in any form is crucial to their physical, social, and emotional well-being.
"It breaks my heart when kids do not have access to sports and athletic opportunities. Because an active start equals an active life. But you can still teach children fundamental movement skills from the beginning, like catching and throwing. This can help give kids the confidence to try sports as opportunities arise."
With COVID-19 restrictions in place, exercise is even more limited. However, Bowes stresses that being active with family members can build good habits later. "If people are walking and playing together more with their families, that's something that will carry over once we've passed this."
And when kids can join group activities again, Bowes emphasizes that enrolling in programs with friends means more opportunities for fun, socializing, and growth.
"Sign them up with friends. Make it easy for them to want to participate. Focus on the importance of having fun. No one needs to win at all costs."
You can find all of the Lucy Tries Sports books in the Caribu library! They are featured as part of #CampCaribu's summer reading challenge, and you also can find them in Caribu's 'Sports' category. Download Caribu today to read with your family on a Caribu video-call, and check out #CampCaribu's activity page to find discussion questions and a related art activity. 
---
Beth S. Pollak is a writer and educator based in California. In addition to working with Caribu, she consults with educational organizations and EdTech companies. Beth has worked as a teacher and journalist in Chicago, New York and San Francisco. She holds degrees in journalism, bilingual education, and educational leadership. In her free time, she enjoys hiking, biking, picnics, and dance.